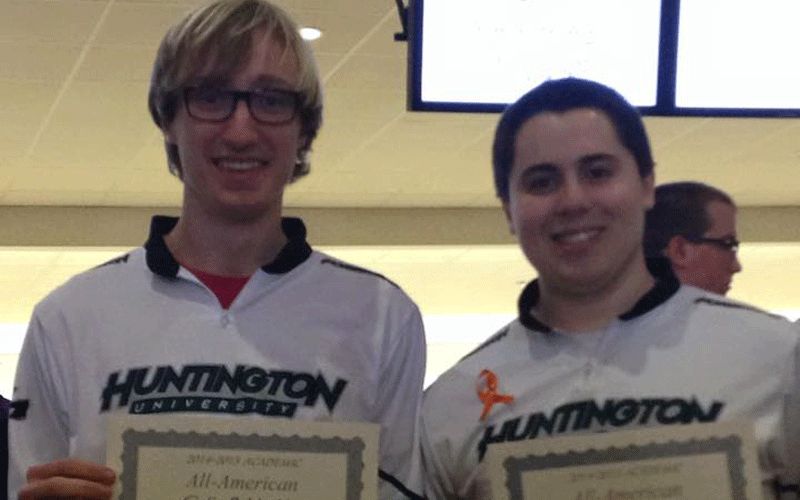 SMYRNA, Tenn. - Playing in the USBC Intercollegiate Team Sectional this past weekend in Smyrna (Tenn.), the Forester women's bowling team made a run for one of the four advancing spots to the national finals, but just fell just short in the last two Baker games to finish 6th out of 16 teams.

It was exciting from start to finish at the Smyrna Bowling Center as the HU team of Rachel Vogler, Shelby New, Ayla Yeiter, Emerald Leong, Emily O'Leary and Brooke Ewing spent all weekend vying for a bid to nationals and after 60 Baker games, Coach Bischoff's clan was one of four teams competing for the final two spots. The first two spots were set as McKendree and Lindenwood ran away from the rest of the competition.

After two days and 56 Baker games, Huntington, who had moved into a tie for fourth place earlier Sunday afternoon, had suddenly dropped 135 pins behind Emmanuel which seemed an insurmountable gap. But doing what they had done all weekend, the ladies pressed on to roll a four-game set of 823 with games of 212-157-278-176 to move into 5th place, only five pins behind 2nd-ranked Pikeville.

With four Baker games remaining, the tournament came down to four teams - Emmanuel, Pikeville, Marian and HU - going after the final two spots. With Pikeville and Emmanuel on the same pair and HU and Marian on the same pair, Huntington rolled 189-201 to climb into 4th after the first two games. Unfortunately after switching lanes, Huntington's hopes were dashed as they posted scores of 129-165, dropping them into 6th with a total of 12,139, 116 pins from the cut.

HU was in 10th after the first eight games rolling four-game blocks of 706-711. They finished Saturday morning with 824-758 to move up to 7th. On Saturday afternoon, Huntington rolled blocks of 784-815-746-718 to wrap up the day still holding their No. 7 spot.

On Sunday, the Foresters began moving up the standings by rolling 766-777-782 before rolling 738 to slide into 5th after 48 games, just 25 pins out of 4th. In the next eight games, the ladies went 790-715 to set up the dramatic finish. HU had three of the highest five games in the tournament with games of 278, 256 and 255.

In individual play, New and Yeiter finished in the top 15 and came up just short of earning a spot to nationals. The top four individuals in each sectional advance to the national finals in Wichita (Kan.) in April.

Four Foresters competed individually on Friday with New making a run right out of the gate by rolling 211-189-182-248-214 her first five games. She was within one pin of the top four going into her sixth and final game but struggled, rolling a 169 for a total of 1,213 (202.1 average) which landed her a 10th place finish out of 138 bowlers. She finished just 38 pins behind the 4th place finisher.

Yeiter also remained in the hunt for one of the top four spots. She rolled games of 186-235-175-192-200-205 for a six-game total of 1,193 (198.8 average) which placed her 15th. Other Foresters competing in singles were Vogler (80th, 171 average) and Ewing (120th, 159.8 average).

The Foresters have shown marked improvement from year-to-year at sectionals as the squad finished 8th last year and 13th in 2013. Huntington will finish their season at the NAIA Invitational Team Championships at Arlington Lanes in Arlington Heights (Ill.) on March 27-29.

The HU men's season came to a close as the Foresters finished 12th out of 22 teams at the Smyrna sectional. Just like the women's team, the crew of Joe and Daniel Miller, Seth Walker, James Knapp, Connor Brown, Adam Harris-Shoemaker, Connor Brown and Derek Beckler made great strides from last year by finishing five spots higher than last season's 17th place finish at sectionals.

After 16 games and four-game blocks of 725-691-758-717, HU found themselves in 16th place. They climbed into 13th by the end of Saturday by finishing with blocks of 763-746-731-819. On Sunday morning the men came close to moving into the top ten by rolling 670-718-789-819 good for 11th with 16 games left. Despite having a solid afternoon of 736-735-749-716, HU finished with a total of 11,882 pins for a final placement of 12th.

For the men, eight Foresters competed in singles play with hopes of finishing in the top seven in order to advance to nationals. Knapp finished 20th out of 164 bowlers to pace HU. He came within 69 pins of making the cut with a total of 1,198 (199.6 average) by rolling games of 207-194-182-191-219-205.

Daniel Miller placed 36th with a 1,152 total (192 average) which included games of 189-186-206-186-208-180. Other HU bowlers competing were Brown (59th, 187.1 average), Joe Miller (63rd, 185.8 average), Madden (93rd, 180 average), Walker (118th, 173.3 average), Jake Neely (120th, 172.5 average) and Beckler (133rd, 167.8 average).

At the conclusion of the tournament, Madden and Joe Miller received USBC Collegiate Academic All-America honors. For Miller it marks his second Academic All-America award in as many years.

The Huntington University Foresters compete in 16 intercollegiate sports for men and women. In the past decade, Huntington has produced 38 NAIA All-America honors and 222 All-America Scholar Athlete honors. Huntington University is a comprehensive Christian college of the liberal arts offering graduate and undergraduate programs in more than 70 academic concentrations. U.S.News & World Report ranks Huntington among the best colleges in the Midwest.