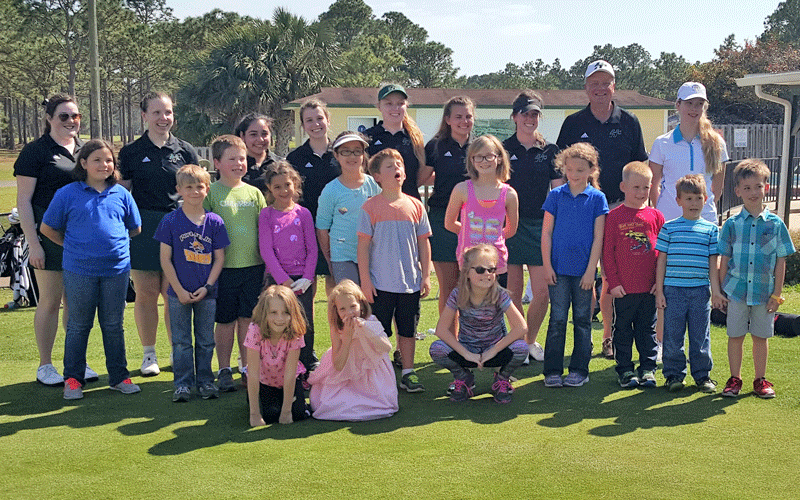 HUNTINGTON, Ind. - In its inaugural season, the HU women's golf team has already set their sights on more than the game of golf.

Coach Pete Schownir's crew headed south over spring break and while they spent the majority of their time practicing for the upcoming spring portion of their season, their biggest take-away was an afternoon spent giving back to the Port St. Joe (Fla.) community.

The Foresters held a clinic for elementary students on March 23 at the St. Joseph Bay Country Club. Sixteen youth attended the free workshop where they worked on chipping and putting at the practice green and also spent time at the range working on their drive and full swing.

"The clinic was the highlight of our trip," said Coach Schownir. "The team dove right into helping the youth with enthusiasm. A story that needs to be told is that at the end, the team went through their golf bags to give out their own golf balls used for qualifying rounds that week so that participants could have something with the HU athletic logo.

"They thought of others ahead of themselves and that is what makes me so proud to be associated with this team."

Freshman Alex Rocha is equally grateful for the experience. "The clinic was such an amazing experience for both the children who participated and my team. It was an opportunity for my team and me to use our talents to help children learn and enjoy the game we love.

"What really struck me was when some of the girls came up to us and asked for our signatures on the HU golf balls we had given them, like we were superstars. I am so glad to be a part of a team who have such big servant hearts and enjoy the game as much as I do. It was a very humbling experience."

The Huntington University Foresters compete in 17 intercollegiate sports for men and women. In the past decade, Huntington has produced 39 NAIA All-America honors and 234 All-America Scholar Athlete honors. Huntington University is a comprehensive Christian college of the liberal arts offering graduate and undergraduate programs in more than 70 academic concentrations. U.S. News & World Report ranks Huntington among the best colleges in the Midwest.