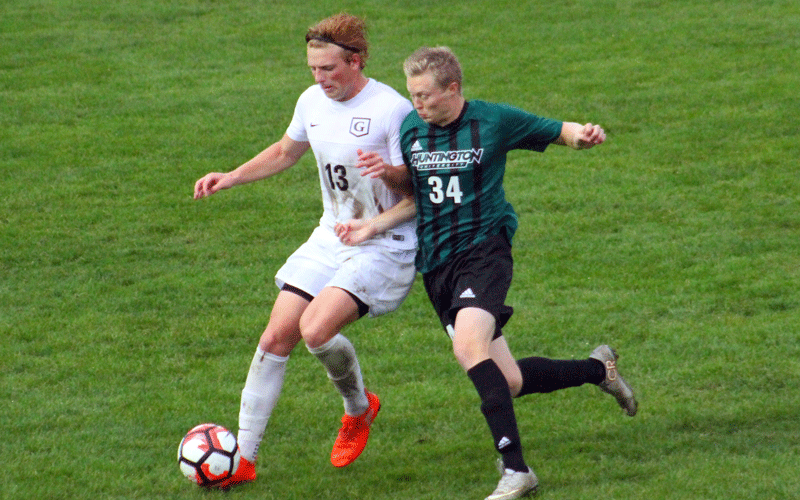 WINONA LAKE, Ind. – For the second straight contest, the HU men's soccer team mounted an impressive comeback. This time the Foresters took down Grace College (7-5-2, 2-4) 2-1 at 1st Source Bank Field to improve to 6-7-1 overall and more importantly 4-2 in league play which lands them in the second spot in the standings with three regular season league matches remaining.

It was another hard fought gritty battle for Coach Lawson's crew. After giving up a goal on a restart midway through the first half, HU dominated the final 45 minutes to steal their third road win of the season over a league foe.

"For most of the first half, action stayed in the middle third for an evenly played match," noted Coach Russ Lawson. "But in the second half, we came out on fire with a collective spirit that was contagious. It started with our first goal."

Just over a minute into the second period, Brooks Smith served a ball from the flank into Hayden Suter who put a head on it to draw things even at 1-1. The tides officially turned after that as eight minutes later, Smith and Suter teamed up again to set the stage for the game-winner.

After a service from Smith, Suter challenged GC keeper Kurt Hamlin but it was Matheus Louzada who reaped the benefit of the loose ball with a header that found back netting. Louzada and Suter have each scored a pair of goals this season.

In addition to getting the job done offensively, the Foresters were equally adept at the other end of the pitch where the backline limited the Lancers to just eight shots on the day, only one of which was on frame. HU senior keeper Brad Buzzard was credited with the win in goal.

"After scoring our second goal, I thought our boys managed the game well in those final 35 minutes," said Lawson. "I'm proud of how we saw the game out for the win.

"Brooks was fantastic for us tonight. Hayden changed the game for us in the second half and credit our entire backline for their effort tonight. From backline to midfield, we kept a very good Grace team far from goal all game."

Huntington returns to the friendly confines of King Stadium on Saturday to host top-seeded Bethel College at 2:00 p.m.

The Huntington University Foresters compete in 17 intercollegiate sports for men and women. In the past decade, Huntington has produced 38 NAIA All-America honors and 254 All-America Scholar Athlete honors. Huntington University is a comprehensive Christian college of the liberal arts offering graduate and undergraduate programs in more than 70 academic concentrations. U.S. News & World Report ranks Huntington among the best colleges in the Midwest.