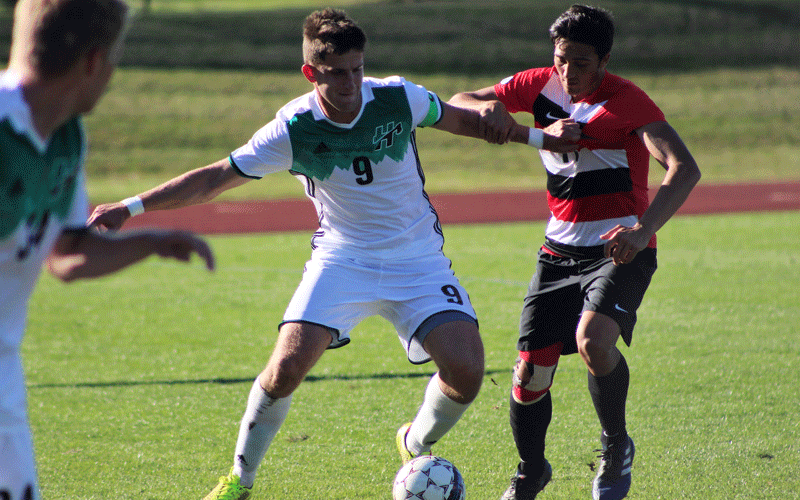 HUNTINGTON, Ind. - The HU men's soccer team handed top-seeded Grace College (7-3-4, 4-1-1) its first league loss of the year. The Foresters did so convincingly as they bolted out to a 3-0 advantage before the Lancers finally found back netting midway through the second half for a 3-1 final. The loss snapped Grace's four-game win streak.

Huntington came out as the aggressors to generate several quality opportunities early on and their pressure finally paid off in great dividends with two scores within a three-minute span in the opening 30 minutes. Noah Stanford got things started when he rounded the keeper on a breakaway at the 25:06 mark for his first collegiate goal.

Matheus Louzada doubled the lead with a blast into back netting, his seventh of the season, on an assist from Stanford minutes later for a 2-0 halftime lead. Eight minutes into the second half, Travis Hurtis found Ty Sproat who further distanced his team from the Lancers when he unleashed a cracking volley for 3-0 tilt for HU's last score of the afternoon.

Ulisses Miranda finally got one back for the visitors in the 67th minute but it was too little too late as the Foresters held Grace at bay the rest of the way for the quality win.

Troy Hester picked up the win in goal with one save. The win is Hester's seventh of the year. The Foresters outshot Grace 14-7 with seven shots on frame to GC's two.

"The boys put in a complete shift today against a very strong Grace side," said Coach Lawson. "We continually have individuals stand up and be counted for from out starting 11 to our bench giving us valuable minutes.

"This was a fantastic performance."

Huntington improves to 7-3-4 overall, 3-1-2 in league play. Next up is a trip to #RV Bethel on Saturday for a 7:00 p.m. clash with the Pilots.

The Huntington University Foresters compete in 17 intercollegiate sports for men and women. In the past decade, Huntington has produced 38 NAIA All-America honors and 274 All-America Scholar Athlete honors. Huntington University is a comprehensive Christian college of the liberal arts offering graduate and undergraduate programs in more than 70 academic concentrations. U.S. News & World Report ranks Huntington among the best colleges in the Midwest.