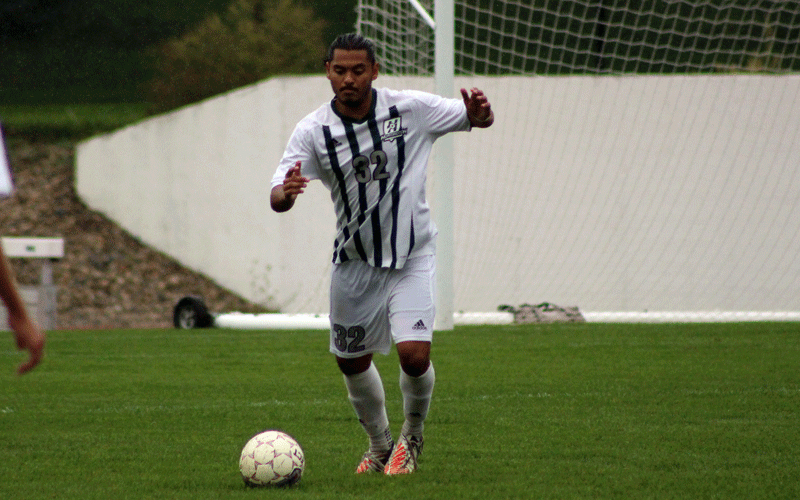 HUNTINGTON, Ind. – The HU men's soccer team logged their third straight shutout of the year with a convincing 4-0 win over the University of Saint Francis Wednesday afternoon at King Stadium. With this win, the Foresters improve to 4-5-1 overall and a perfect 2-0 in league play having just upset IWU, currently ranked 19th, Saturday night.

The Foresters carried over momentum from the weekend as they wasted little time taking over the match by getting on the scoreboard within the first three minutes of play. Marcos Salinas set the stage when he played Matheus Louzada out on the wing. Louzada, on a fantastic first touch, got the corner and slotted Miguel de Sousa for a picture perfect goal.

"Coming out gate aggressive tonight and getting that first goal was key for us," noted Coach Russ Lawson. "Overall, I'm excited about the result - excited that we answered Saturday's game with another top notch effort."

The Foresters would go on to add a second goal before half when Louzada dished out his second assist, this time to Isaac Wust who slotted the USF keeper Brandon Conn for a 2-0 advantage heading into intermission.

Wust put the game out of reach when he found back netting on a PK in in the 58th minute and Guilherme Lins Souza added the cherry on top three minutes later when he found back netting after a pair of passes from Sousa and Louzada to make for the 4-0 final.

HU's balanced attack was impressive with Louzada logging three assists, Wust finishing with two goals and Sousa adding a goal and assisting another. As a team, the hosts outshot the Cougars 23-7, 11-2 on frame, to dominate play from start to finish.

"I am excited how we controlled tempo today," said Lawson. "Our defense all game long was stellar.

"This was a convincing effort and well deserved result. It was also our third clean sheet in a row and is something we're fighting for and will look to build on."

Brad Buzzard, a USF transfer and the league's defensive player of the week, shutdown his former team to earn the win in goal. He finished with a save for his third straight shutout.

Currently riding a three-game win streak, HU hits the road on Saturday for a 7:00 p.m. date with Goshen College.

The Huntington University Foresters compete in 17 intercollegiate sports for men and women. In the past decade, Huntington has produced 38 NAIA All-America honors and 254 All-America Scholar Athlete honors. Huntington University is a comprehensive Christian college of the liberal arts offering graduate and undergraduate programs in more than 70 academic concentrations. U.S. News & World Report ranks Huntington among the best colleges in the Midwest.