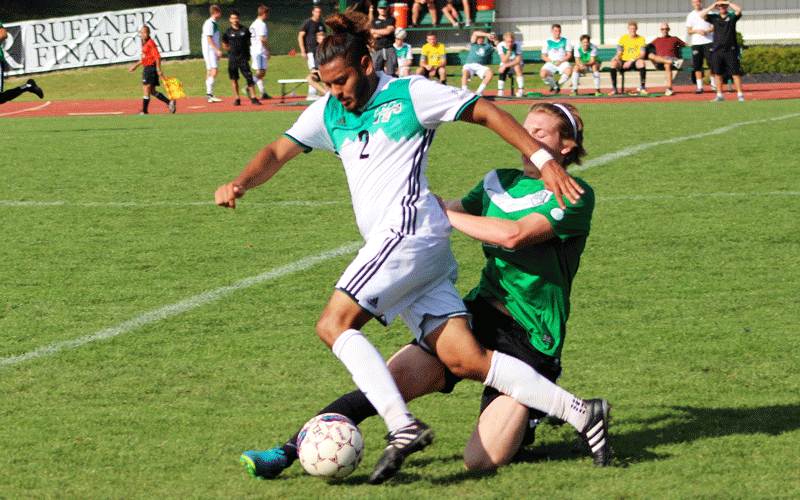 HUNTINGTON, Ind. - The Huntington men's soccer team (6-3-4) jumped two spots in the league standings with a 2-0 win over Mount Vernon Nazarene University (7-7, 2-3) Saturday afternoon at King Stadium. The Foresters are now sitting in fourth place among their league peers with a 2-1-2 CL record.

For senior Troy Hester, it was his second clean sheet of the season and the fifth time HU has shutout its opponent.

Less than 60 seconds in, the Cougars were whistled with a handball in the box and Matheus Louzada was quick to convert the ensuing penalty kick to give his team an early lead that proved permanent. The goal was his sixth of the year, the 14th of his career.

Nineteen minutes later, HU struck once more and Louzada again had a hand in it. This time he split the Cougar defense with a pass into Bradey Gerke who blasted it home for the 2-0 advantage that stuck.

The match was a hard fought battle in which shots were hard to come by. Mount Vernon finished with seven shots, two on frame, while HU tallied six, half of which were on goal. The Cougars have scored just once in their last three outings and are currently riding a three-game losing streak.

"This was an excellent response by the boys from the previous game that we felt let get away from us," said Coach Lawson referring to HU's recent 2-0 loss to #19 Spring Arbor.

"Matheus continues to shine and it was great to see us capitalize early on our opportunities. This was a great team win - we had a resolute back line with big games from Stevie, Danny and Migs in the midfield."

Huntington hosts Grace on Wednesday at 4:00 p.m.

The Huntington University Foresters compete in 17 intercollegiate sports for men and women. In the past decade, Huntington has produced 38 NAIA All-America honors and 274 All-America Scholar Athlete honors. Huntington University is a comprehensive Christian college of the liberal arts offering graduate and undergraduate programs in more than 70 academic concentrations. U.S. News & World Report ranks Huntington among the best colleges in the Midwest.