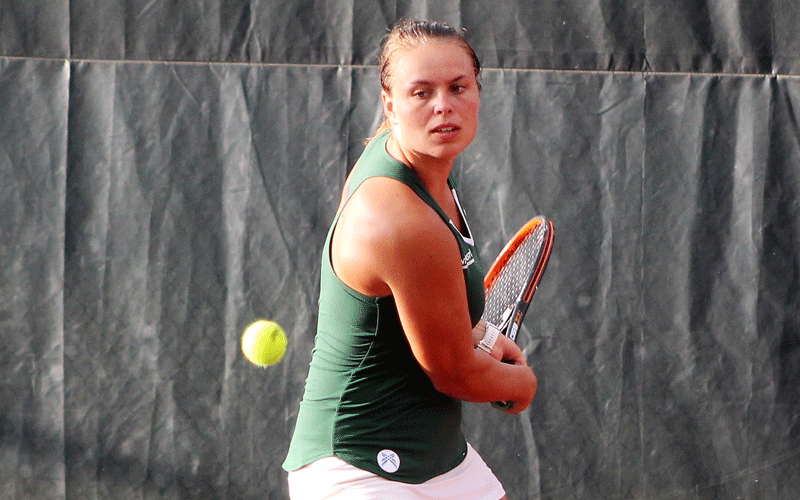 HUNTINGTON, Ind. - The Huntington women's tennis team fell victim to Indiana Wesleyan University 8-1 Tuesday afternoon at Klopfenstein Courts. The Wildcats remain undefeated in league play at 6-0 while HU drops to 4-2 in conference action, 6-2 overall. The loss snaps HU's five-game win streak.

IWU's dominance isn't limited to just this fall. Since 2006, the Wildcats have lost just one conference regular season match with that loss coming to Marian in 2014.

The Foresters' win came at the No. 6 spot in singles play where Lisa Colling knocked off Sabrina Porter 6-2, 6-3. HU's Constanze Golz and Meg Dolde had a strong showing at No. 1 doubles where they conceded to this year's ITA Regional doubles champions Alex Mella and Lizzie Bauss 8-6.

Dolde, at #2 singles, and Lanae Singleton, at #3 singles, were a handful for their Wesleyan counterparts as they extended their respective matches to three sets.

HU travels to Adrian College tomorrow for a rescheduled nonconference match from last week.

SINGLES RECAP
#1 - Lizzie Bauss (IWU) def. Constanze Golz (HU) 6-1, 6-3
#2 - Thewuni Devaraja (IWU) def. Meg Dolde (HU) 7-6, 4-6, 6-0
#3 - Olivia Reed (IWU) def. Lanae Singleton (HU) 4-6, 6-3, 6-2
#4 - Marissa Klein (IWU) def. Charlotte Seth (HU) 6-2, 6-1
#5 - Becky Scurt (IWU) def. Anastasiia Evstifeeva (HU) 6-0, 6-1
#6 - Lisa Colling (HU) def. Sabrina Porter (IWU) 6-2, 6-3

DOUBLES RECAP
#1 - Alex Mella/Bauss (IWU) def. Golz/Dolde (HU) 8-6
#2 - Reed/Davaraja (IWU) def. Singleton/Colling (HU) 8-2
#3 - Klein/Scurt (IWU) def. Evstifeeva/Seth (HU) 8-1

The Huntington University Foresters compete in 17 intercollegiate sports for men and women. In the past decade, Huntington has produced 38 NAIA All-America honors and 274 All-America Scholar Athlete honors. Huntington University is a comprehensive Christian college of the liberal arts offering graduate and undergraduate programs in more than 70 academic concentrations. U.S. News & World Report ranks Huntington among the best colleges in the Midwest.