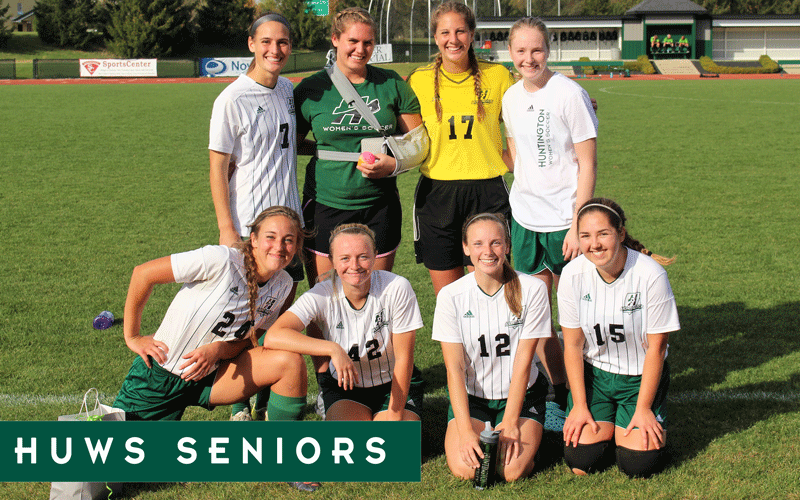 HUNTINGTON, Ind. - The HU women's soccer team is in sole possession of third place in the league standings after today's 3-1 win over Bethel College. The W moves HU to 8-7-1 overall, 4-3 in Crossroads League action while the Pilots drop to 4-9-2 overall, 2-4 in the conference.

The win was extra special because it was senior day and the junior class made sure they did their part to secure the win for their eight seniors. Midway through the first half, junior Jamie Calvin entered the contest and within 60 seconds of stepping foot on the pitch, she blasted one back netting on a pass from Brandi Spear for not only the game's first goal but also the first of her career.

Junior Matéa Knispel made it 2-0 eighteen minutes into the second half when Calvin found her for her 16th goal of the year, Calvin's fifth assist of the year. But Huntington's celebration was short-lived as a mere 15 seconds later, Sarah Lancaster got her head on a ball played into the box for Bethel's only score of the afternoon.

It brought new life to the Pilots as their pressure increased exponentially over the next 20 minutes but sophomore Hannah Williams put a kibosh on any Bethel hope of playing spoiler to senior day when she tapped one in on a cross from Millie Adams with five minutes remaining to put the game out of reach. The goal was William's first of her Forester career.

HU outshot their visitors 17-9, nine of which were on frame to Bethel's six. Paige Coolman picked up the win in goal. The senior keeper finished with five saves on the day.

"It's hard to comment on a game on Senior Day because our focus today was honoring the impact our eight ladies have made on this program," said Coach Burge. "We are so grateful for their contribution to our family, including today's match where we gutted out a victory against a tough Bethel crew."

The eight seniors honored at halftime included MaKayla Barrantes, Toby Carman, Paige Coolman, Audra Klopfenstein, Morgan McCloughan, Sammy McCoy, Nicole Pennington and Brandi Spear.

The Foresters now turn their attention to Wednesday's matchup against #15 Marian University at 4:00 p.m. at King Stadium.

The Huntington University Foresters compete in 17 intercollegiate sports for men and women. In the past decade, Huntington has produced 38 NAIA All-America honors and 274 All-America Scholar-Athlete honors. Huntington University is a comprehensive Christian college of the liberal arts offering graduate and undergraduate programs in more than 70 academic concentrations. U.S. News & World Report ranks Huntington among the best colleges in the Midwest.