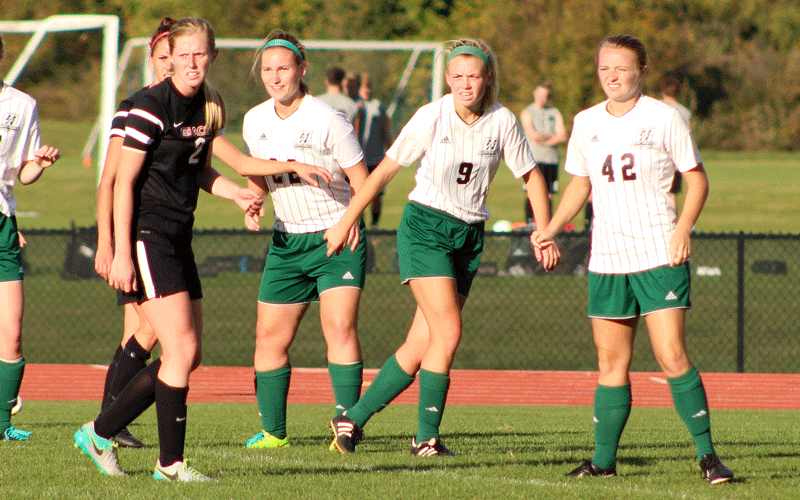 HUNTINGTON, Ind. – Playing in their fifth overtime game of the season, the HU women's team logged a 1-1 stalemate against the Lancers of Grace College (4-6-2, 3-2-1) Tuesday afternoon at King Stadium. Tonight's finish marks the Foresters third 2OT draw of the year with the last coming against #RV IWU Wildcats on October 1.

Senior Olivia Knispel gave her team the lead heading into break when she blasted a shot back netting in the 40th minute. It marked her sixth goal of the season and looked like it might serve as the game-winner but the Lancers had other plans.

With just under nine minutes in regulation, Grace's equalizer came at the foot of Sabina Meyers to send the game to extra minutes. Seven shots later, five by the visitors and two by HU, the score remained deadlocked after two extra periods for the 1-1 final.

Both teams finished with ten shots on frame with the Lancers holding a 24-18 advantage in overall shots taken. In addition to scoring HU's lone goal, Knispel generated half her team's shots with nine to pace the Foresters offensively.

Paige Coolman went the distance in goal and tracked down nine saves.

"We still find ourselves on the other side of the result we want," said Coach Amanda Burge. "But this afternoon it was great to see the ladies step on the pitch as a cohesive unit once again.

"After a hard loss Saturday, we had some decisions to make and the ladies stepped back up big…as a family. That was a critical shift for us moving forward!"

The Foresters move to 4-7-3 overall, 0-4-2 in league play. HU is back in action on Saturday at Bethel College for a 3:00 p.m. kick-off with the Lady Pilots.

The Huntington University Foresters compete in 17 intercollegiate sports for men and women. In the past decade, Huntington has produced 38 NAIA All-America honors and 254 All-America Scholar Athlete honors. Huntington University is a comprehensive Christian college of the liberal arts offering graduate and undergraduate programs in more than 70 academic concentrations. U.S. News & World Report ranks Huntington among the best colleges in the Midwest.