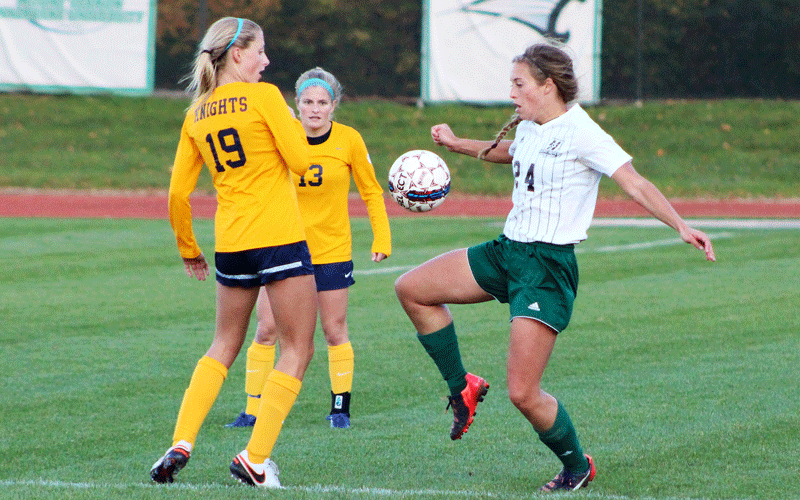 HUNTINGTON, Ind. - Playing in their last regular season home game of the year, the HU women's soccer team defended King Stadium by holding #15 Marian University (13-2-2, 6-0-2) scoreless for a 0-0 2OT draw on Wednesday afternoon to earn an all-important point in the race to the finish line.

With one regular season game remaining against Taylor on Saturday, the Foresters are currently tied for fourth in the league standings with the Trojans. After Spring Arbor and Marian, just one game separates the next five teams which means there's a lot riding on Saturday's results around the league.

Wednesday's match was just the second time this season the Knights have been shutout, the first time dating back to August 22 against defending National Champions University of Northwestern Ohio.

While MU fired off 19 shots to HU's six, both teams had several quality opportunities that just missed the mark. Marian, a squad that entered the contest outscoring their opponents 51-12, was paced by Kellie Cavanaugh who finished with nine shots, four on frame, while Brandi Spear and Matéa Knispel each registered two for HU.

The shutout is Huntington's sixth of the year and their fourth double overtime match. HU moves to 8-7-2 overall, 4-3-1 in league play.

"We came into this match knowing a great deal was on the line," said Coach Burge. "Not only did we want to hold off a very strong offense in Marion, but we knew a loss would not be acceptable. The girls battled, possessed and communicated their way through an extremely tough 110-minute match.

"Although we obviously would have loved to bury a few of the great looks we had at the net, this result against a high ranking crew shows just how hard these ladies have worked this season and I'm extremely proud of them."

The Foresters travel to Taylor on Saturday for the high stakes match slated to begin at 7PM.

The Huntington University Foresters compete in 17 intercollegiate sports for men and women. In the past decade, Huntington has produced 38 NAIA All-America honors and 274 All-America Scholar-Athlete honors. Huntington University is a comprehensive Christian college of the liberal arts offering graduate and undergraduate programs in more than 70 academic concentrations. U.S. News & World Report ranks Huntington among the best colleges in the Midwest.