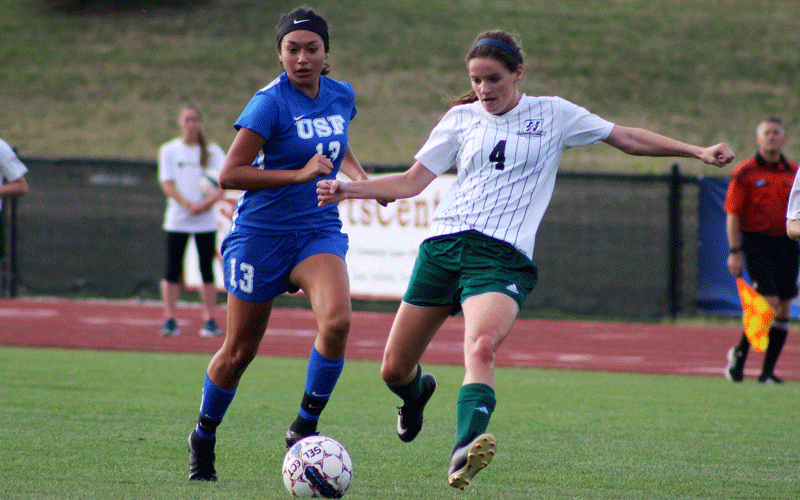 HUNTINGTON, Ind. - The Forester women's soccer team stretched their win streak to three with a 2-0 win over the University of Saint Francis Tuesday afternoon at King Stadium.

The W is also HU's third straight shutout as they improve to 6-4-1 overall, 2-0 in league play. The loss is USF's fourth consecutive as they drop to 6-5 overall, 0-2 in CL action.

The majority of the 90-minute contest was spent at Huntington's offense end as evidenced by shots taken. HU posted 34 shots, 15 on frame, while limiting the Cougars to just one shot per half.

In addition to the lopsided shots, HU also registered ten corner kicks to USF's one.

Matéa Knispel came into the match ranked 18th in the NAIA in total goals with 11 and added to her total when she snuck one side netting with 16 minutes left in the first half for the 1-0 advantage. Brandi Spear added an insurance goal with 12 minutes remaining when Tessy Geiss maneuvered around a few defenders and slotted a ball to Spear who landed it upper 90 for her ninth goal of the year.

Together the duo has accounted for 21 of their team's 25 goals. At the other end of the pitch, the Foresters have given up just 12 goals through 11 matches. Senior Paige Coolman was credited with today's win in frame, her third clean sheet of the year.

"Today we were focused on consistency which we certainly executed in terms of possession of the ball and defending from end to end," said Coach Burge. "Overall, it was a beautiful game of soccer in that we created so many great looks.

"Looking forward, we have a few things to tighten up, but this crew is playing as a unit and we will continue to dial our play in together."

The Foresters are back at it on Saturday when they travel to Indiana Wesleyan for a 1:30 p.m. matchup with the Wildcats.

The Huntington University Foresters compete in 17 intercollegiate sports for men and women. In the past decade, Huntington has produced 38 NAIA All-America honors and 274 All-America Scholar Athlete honors. Huntington University is a comprehensive Christian college of the liberal arts offering graduate and undergraduate programs in more than 70 academic concentrations. U.S. News & World Report ranks Huntington among the best colleges in the Midwest.