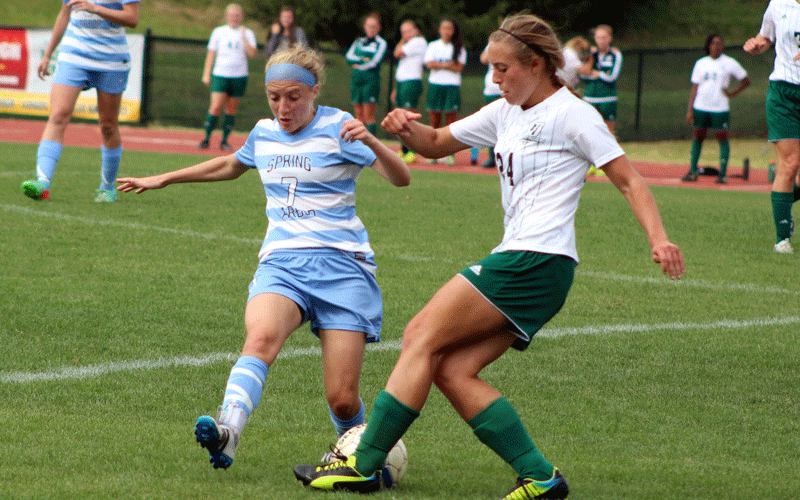 HUNTINGTON, Ind. - The HU women's soccer team (6-4, 0-1) met up with No. 10 Spring Arbor University (7-2-1, 1-0) in their league opener Saturday afternoon at King Stadium where they struggled to contain freshman Bethany Balcer who struck for two goals in SAU's 2-0 win over the Foresters.

Balcer, currently boasting ten national rankings which includes being 5th in total points (28) and 7th in total goals (11), gave her team an early lead with her first goal in the 29th minute. Twenty minutes into the second half she found back netting again to push the lead to 2-0 for a score that would stand.

Ten games into the season, the Cougars are outscoring opponents 28-12 and outshooting opponents 247-69. Saturday was no different as the visitors limited HU to just four shots while generating 31 of their own.

Despite the lopsided stats, Coach Tillett was happy how his team battled. "Our girls played hard and did a great job staying organized against Spring Arbor's overall team speed and play. We were in the game and competed well against one of the nation's top teams.

"I'm very proud of our effort and fight today. I'm not satisfied and nor are the girls with just being close with a team like this. We have to continue to take steps forward."

Toby Carman finished with 14 saves for the loss in goal.

Huntington's schedule doesn't get any easier as they travel to #20 Mount Vernon Nazarene University on Tuesday for a 4:00 p.m. matchup with the Cougars.

The Huntington University Foresters compete in 17 intercollegiate sports for men and women. In the past decade, Huntington has produced 39 NAIA All-America honors and 234 All-America Scholar Athlete honors. Huntington University is a comprehensive Christian college of the liberal arts offering graduate and undergraduate programs in more than 70 academic concentrations. U.S. News & World Report ranks Huntington among the best colleges in the Midwest.