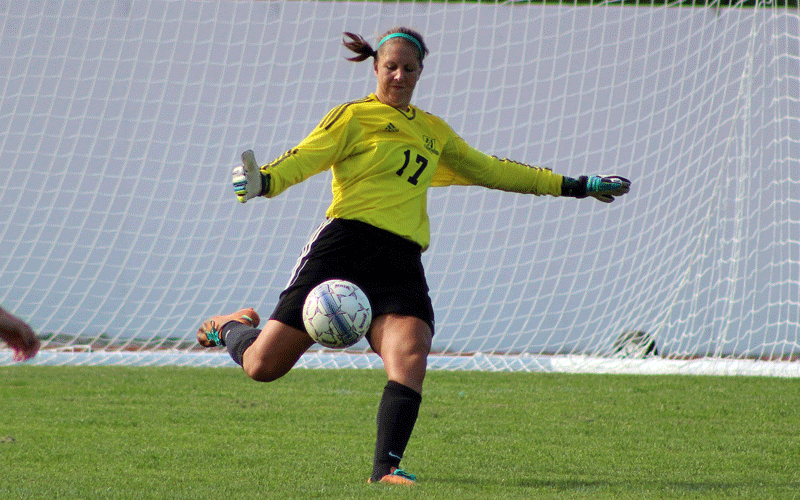 HUNTINGTON, Ind. – The Huntington women's soccer team wrapped up the non-conference portion of their schedule Wednesday afternoon with a 4-3 win over Manchester University at King Stadium.

With this win, HU improves to 4-3-1 heading into their first league match on Saturday against Goshen College at 2:00 p.m.

The Foresters were the definite aggressors against the Spartans, logging nearly twice as many shots as their visitors. Coach Burge's crew finished with 39 shots, 15 of which were on goal while MU posted 22 shots with 15 on target.

However, the final result was much closer as just one goal separated the two teams. Manchester struck first, three minutes in, on a Courtney Hersick goal for the early 1-0 lead. But HU fired back 12 minutes later when Audra Klopfenstein's throw in was deflected into the back of the net for the 1-1 stalemate.

It wasn't long before HU took the lead compliments of Olivia and Matea Knispel teaming up in the 23rd minute. Matea set the stage by slotting a ball to her sister who easily placed it on the ground for her fourth goal of the year, the 14th of her career.

Tessy Geiss extended the lead to 3-1 just before halftime when she rocketed a shot back netting on a cross from Matea.

It was a lead that seemed solid but Hersick proved otherwise. Less than 13 minutes into the second half, Hersick scored a pair of goals within a 60-second span to quickly knot things up at 3-3 and log her first career hat trick.

Unflustered, the Foresters answered within two minutes. This time it was Millie Adams who found Brandi Spear at the 18 for a solid strike that found open net for what proved to be the game-winner at the 60:37 mark.

"Today was not our best showing this season," said Coach Amanda Burge. "We came out flat and despite a winning result, I am confident we can elevate our play and will certainly need to in conference play.

"That said the ladies battled hard, shot often, refusing to let down. Converting a few more shots and maintaining defensive composure will suit us well moving forward."

Paige Coolman collected 11 saves to post the win in goal while Caroline Smith was charged with the loss for the Spartans.

The Huntington University Foresters compete in 17 intercollegiate sports for men and women. In the past decade, Huntington has produced 38 NAIA All-America honors and 254 All-America Scholar Athlete honors. Huntington University is a comprehensive Christian college of the liberal arts offering graduate and undergraduate programs in more than 70 academic concentrations. U.S. News & World Report ranks Huntington among the best colleges in the Midwest.