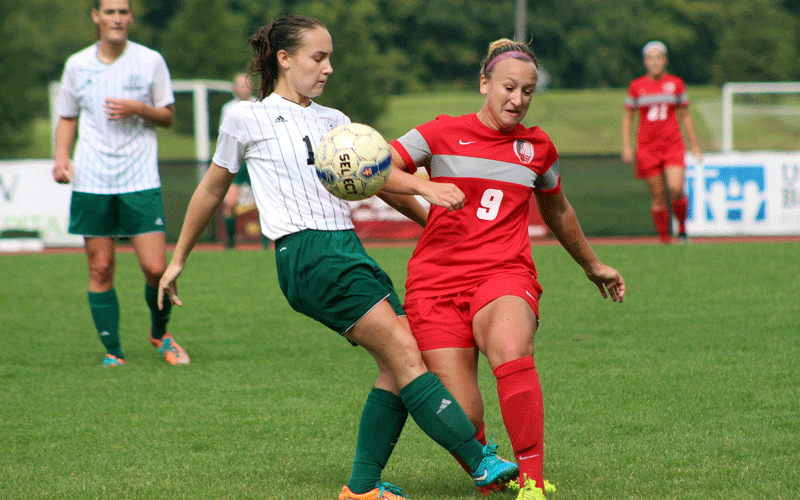 HUNTINGTON, Ind. – The Forester women's soccer team played to a 0-0 double overtime stalemate with #RV Indiana Wesleyan University (6-3-2, 1-1-1) Saturday afternoon at King Stadium.

With this tie, HU moves to 4-5-2 overall, 0-2-1 in conference action.

While both teams battled until the bitter end, credit the Foresters for holding the Wildcats, a team that averages nearly 2.5 goals per match, scoreless for 110 minutes considering how much time HU had to spend warding off a Wesleyan attack that generated 25 shots to HU's seven.

A key to Huntington's success was limiting Tia Sanford, one of the league's top scorers and a former NAIA National Player of the Week, to just four shots on the day.

Paige Coolman earned the shutout in goal with eight saves. Matéa Knispel finished with three shots, one on frame, to account for nearly half of HU's offense.

The game marks Huntington's third clean sheet and third overtime contest of the season.

"Stepping onto the field today the ladies brought the hunger we've been waiting to see," said Coach Amanda Burge. "They played 110 minutes of tough, battle-driven soccer, but did so as a cohesive unit.

"As a first year family we would have loved the win, but walking away with a tie against a nationally ranked team. As we've been saying all season…the future is bright for these ladies."

The Foresters will have their work cut out for them on Wednesday when they travel to Spring Arbor University to face the #1 Cougars at 7:00 p.m.

The Huntington University Foresters compete in 17 intercollegiate sports for men and women. In the past decade, Huntington has produced 38 NAIA All-America honors and 254 All-America Scholar Athlete honors. Huntington University is a comprehensive Christian college of the liberal arts offering graduate and undergraduate programs in more than 70 academic concentrations. U.S. News & World Report ranks Huntington among the best colleges in the Midwest.