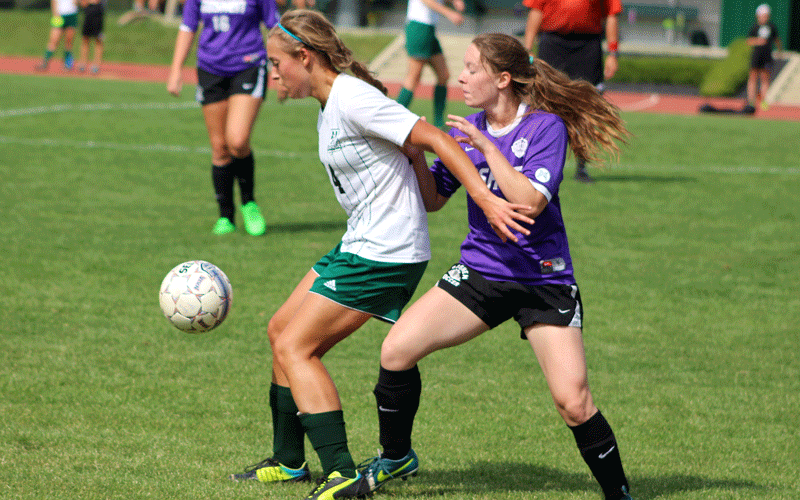 HUNTINGTON, Ind. – The Maple Leafs of Goshen College handed the HU women's soccer team a disappointing 3-2 loss Saturday afternoon on opening day of league play at King Stadium. The loss snaps a three-game win streak as HU drops to 4-4-1 overall, 0-1 in conference play.

The Foresters had to learn the hard way that no lead is ever safe. Holding on to a 2-0 advantage with less than 15 minutes remaining, HU watched in horror as their lead disappeared within a four-minute span.

While HU never waved in their grit and determination, the drastic turn of events proved permanent as Goshen goalie Natalie Thorne blocked a shot and then came up with an incredible save in the final ten seconds of play to preserve the win for her team. The Maple Leafs improve to 5-4-1 on the year, 1-0 in league play.
"Today was a day for lessons learned. The girls played an extremely tough game of soccer against a strong defense from Goshen's back line," said Coach Amanda Burge. "Through the season I have talked to the ladies about not getting comfortable with a lead and today I found myself comfortable at 2-0 part way through the second half.

"Unfortunately that comfort led to too many shifts in the line-up preventing us from keeping up our flow of play. The ladies battled tough today and as a coach I let them down. I'm proud of them and can't wait to see how we bounce back from this tough lesson."

Audra Klopfenstein logged the game's first goal, her third of the season, in the 10th minute by running onto a deflected shot by teammate Matéa Knispel and burying it back netting for HU's early 1-0 lead.

Huntington's second goal came by way of the Knispel sisters in the 66th minute when Olivia blasted a shot side netting on a cross by Matéa. Olivia leads the team in goals with five while Matéa has dished out four assists to share team-high assist honors with Millie Adams.

The Foresters are back in action Tuesday night when they travel to Saint Francis for a 7:00 p.m. matchup with the Cougars.

The Huntington University Foresters compete in 17 intercollegiate sports for men and women. In the past decade, Huntington has produced 38 NAIA All-America honors and 254 All-America Scholar Athlete honors. Huntington University is a comprehensive Christian college of the liberal arts offering graduate and undergraduate programs in more than 70 academic concentrations. U.S. News & World Report ranks Huntington among the best colleges in the Midwest.