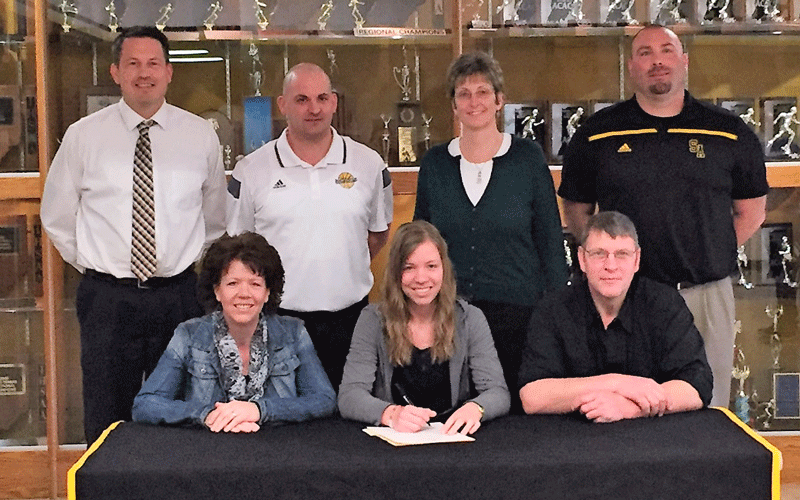 HUNTINGTON, Ind. - The Huntington University women's basketball program has added another top player to their list of 2016-17 recruits with the signing of South Adams standout Cindy In't Groen.

The 5-10 forward averaged 18.1 points 8.9 rebounds, 3.5 steals and 2.0 blocks this past season to help guide her team to a program-best 19-4 record. In't Groen earned numerous honors and awards in her final campaign which included earning IBCA All-State Honorable Mention, News Sentinel All-Area Team and ICGSA Third Team All-State honors.

In't Groen, a two-time First Team All-Conference pick, has been identified by IBCA as one of the state's top seniors and will participate in their Top 60 workout later this spring. She is also one of the finest players in South Adams history as she will graduate holding the school record for most points in a game (35). She wrapped up her prep career for the Lady Starfires with 735 points to finish 9th on the all-time scoring list.

Her success is also well-documented in the classroom. In't Groen's academic awards include being named ACAC First Team Academic All-Conference and IBCA Honorable Mention Academic All-State.

"We're very happy that Cindy has chosen to continue her academic and athletic careers at HU," said head coach Lori Culler. "She has improved her basketball skills tremendously over the past two seasons which is a credit to her work ethic and her perseverance.

"She has some versatility in her game with her ability to put the ball on the floor as well as a solid midrange jumper. She scraps hard after rebounds and outhustles a lot of opponents. We think her best years are ahead of her and look forward to watching that development over the next four years."

In't Groen plans to study business at Huntington. She is the daughter of Jack and Carola of Geneva, Ind.

The Huntington University Foresters compete in 17 intercollegiate sports for men and women. In the past decade, Huntington has produced 39 NAIA All-America honors and 234 All-America Scholar Athlete honors. Huntington University is a comprehensive Christian college of the liberal arts offering graduate and undergraduate programs in more than 70 academic concentrations. U.S. News & World Report ranks Huntington among the best colleges in the Midwest.