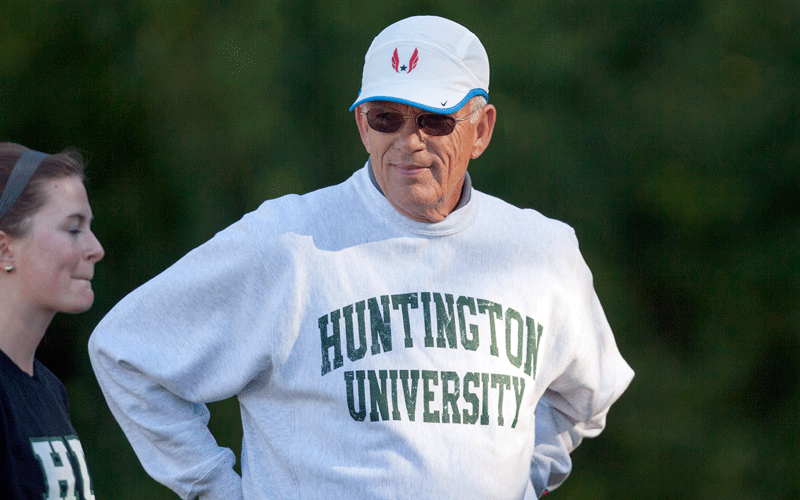 HUNTINGTON, Ind. – Legendary Huntington University cross country and track coach Tom King announced his retirement from coaching effective at the conclusion of the track season.

"We are extremely grateful for Coach King's many years of loyal service to Huntington University," said HU athletic director Lori Culler "Throughout his 4 ½ decades of leading our student-athletes, he not only has paved the way for hundreds of young men and women to reach their athletic goals, but he's also given them the opportunity to pursue their academic ambitions and the guidance to grow in their faith.

"It's been a privilege during my time here at HU to count Coach King as a mentor, a role model, a colleague and a friend. His longevity and persistence in coaching is a testament to his passion both for the sports he coaches as well as for the opportunities it affords him to prepare young men and women to impact the world for Christ. He has made an indelible footprint on Huntington University athletics and will leave a legacy of love for an institution of which he has been a faithful servant."

Coach King came to Huntington University in 1970 as the Dean of Men. He also took over as the Foresters' track and field teams and began to build a cross country program. During his 46-year tenure, King has been selected by his peers as Conference Coach of the Year 33 times, District 21 Coach of the Year seven times and NCCAA (National Christian College Athletics Association) Coach of the Year two times.

His cross country teams have won nine conference titles and enjoyed 11 trips to the NAIA National Championships highlighted by his men's team that posted a sixth place finish in 1999, the highest team finish by any HU athletic team at that time and second highest finish to date.

Under King's leadership, his track and field teams have boasted 15 league titles. In the early 1990s, King guided his women's track program to four consecutive National Championships in the National Christian College Athletic Association.

Since 1987, over 80 of King's student-athletes have qualified for the NAIA National Track and Field Championships. His athletes have earned 56 All-America honors which includes four-time national shot put champion Jim Arnett, two-time national champion John Ngure and national runners-up Danielle Vohs and Jenny Keil. He has also coached well over 100 All-American Scholar Athletes.

King received his AB degree in Political Science from Ashland University in Ohio. While attending Ashland, he was a distance runner on the track team and ran for four years in cross country. He has done post-graduate work at Ohio University and Ball State University.

King served as Huntington's athletic director from 1987-95, and was a HU Centennial Medallion Award Recipient in 1997. In 2001, Coach King was inducted in the Huntington University Athletic Hall of Fame. In 2008, he was selected as Regional 8 Coach of Character.

He and his wife, Jan, have three married children, Rollin, Doris and Dan, who have given them six grandchildren.

The Huntington University Foresters compete in 17 intercollegiate sports for men and women. In the past decade, Huntington has produced 39 NAIA All-America honors and 234 All-America Scholar Athlete honors. Huntington University is a comprehensive Christian college of the liberal arts offering graduate and undergraduate programs in more than 70 academic concentrations. U.S. News & World Report ranks Huntington among the best colleges in the Midwest.