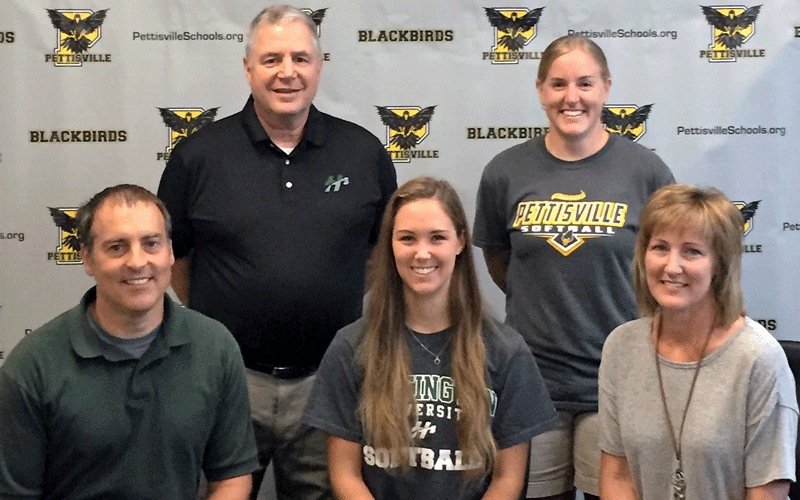 HUNTINGTON, Ind. – The Forester softball program is excited to announce that Pettisville High School standout Amber Klopfenstein has signed a letter of intent to continue her academic and athletic career at Huntington University.

Klopfenstein saved her best for last. In her final campaign, she slugged out 32 hits in 17 games which included 11 doubles. As the Blackbirds' lead-off hitter, she struck out just once and finished the year with an impressive .542 batting average and on-base percentage of .614.

The Archbold (Ohio) native wrapped up her time in black and gold by being named the 2016 Conference Player of the Year in addition to earning All-State Honorable Mention accolades, receiving her fourth consecutive All-conference honor and being selected First Team All-District for the second time in her prep career.

Klopfenstein's ties to Huntington run deep as she joins her sister Audra, a junior on the HU softball and soccer teams. Her brother Jordan, a 2013 alum, sported Forester green and white as a four-year member of the HU baseball team while her high school coach Kendra Stahl, a 2009 alum, played softball and basketball at Huntington.

Pictured seated are father Rod, Amber and mother Linda. Standing are HU Coach Doug Gower and Pettisville Coach Kendra Stahl.

The Huntington University Foresters compete in 17 intercollegiate sports for men and women. In the past decade, Huntington has produced 38 NAIA All-America honors and 254 All-America Scholar Athlete honors. Huntington University is a comprehensive Christian college of the liberal arts offering graduate and undergraduate programs in more than 70 academic concentrations. U.S. News & World Report ranks Huntington among the best colleges in the Midwest.