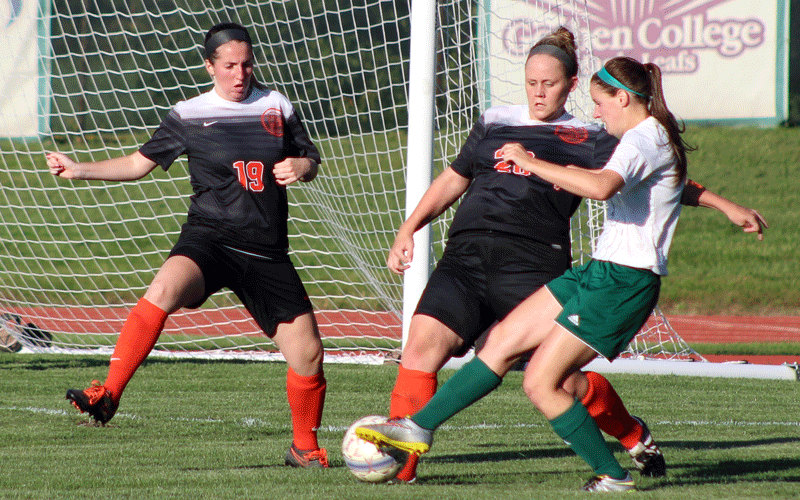 HUNTINGTON, Ind. – Senior Olivia Knispel buried the game-winner six minutes into OT at King Stadium to lift the HU women's soccer team past Indiana Tech 4-3 Wednesday night. The game-ending goal marks Knispel's sixth game-winner of her Forester career.

No one would have scripted the dramatic finish based on how the contest started as Coach Burge's crew bolted out to a 3-0 advantage just 13 minutes in. Matéa Knispel started her team's scoring frenzy when she tracked down a loose ball and left-footed a shot from 25 out for the early 1-0 lead by the 4:19 mark.

Tessy Geiss made it 2-0 when she received a well-placed ball from Millie Adams to the 12 that she sent screaming into the back of net less than 60 seconds after Knispel's score. A handful of minutes later, Olivia Knispel extended the lead to three when she got her own deflected shot and tapped it in for what proved to be the first of two goals on the day.

The Warriors got one back before halftime to make for a 3-1 difference heading into intermission. The score would hold for another 30 minutes before a persistent Tech squad scrapped and clawed for a pair of goals in the final ten minutes of regulation much to the chagrin of their hosts who begrudgingly watched their lead dissolve.

But the Foresters made sure they wrote the end of the story thanks to Knispel's heroics. It was two picture perfect passes on a quick counter, from Adams, who played a part in each of HU's four goals, to Matéa Knispel on the left flank to her sister Olivia who decidedly placed the ball in the back right corner for the win.

"After establishing a quick lead we got a little too comfortable and let a battle driven Indiana Tech squad tie the game 3-3 before we could regain our composure," said Burge. "Going into overtime we knew what it was going to take to pull out the win, the girls dug deep and made it happen!

"Their heart, determination and drive continue to show up day after day."

Autumn Demott (1-0) tallied the win in goal. The sophomore keeper went the distance to finish with 12 saves. The Foresters improve to 3-3-1 on the year with tonight's win avenging a 2-0 loss to the Warriors last year.

The Huntington University Foresters compete in 17 intercollegiate sports for men and women. In the past decade, Huntington has produced 38 NAIA All-America honors and 254 All-America Scholar Athlete honors. Huntington University is a comprehensive Christian college of the liberal arts offering graduate and undergraduate programs in more than 70 academic concentrations. U.S. News & World Report ranks Huntington among the best colleges in the Midwest.