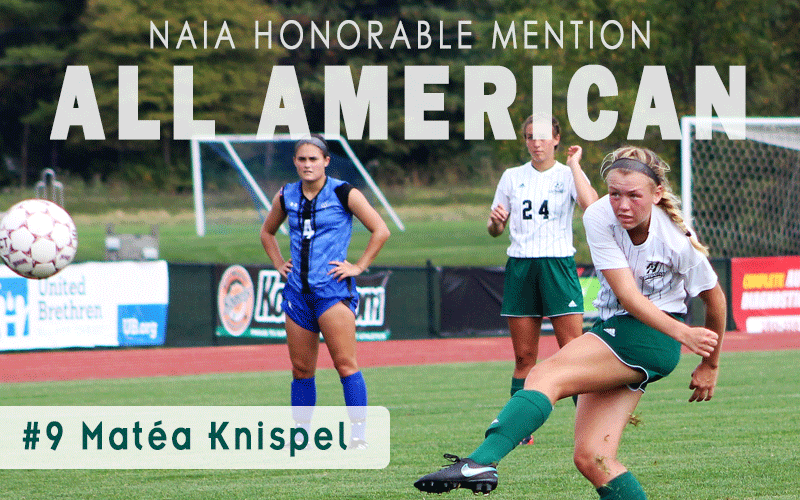 HUNTINGTON, Ind. - Huntington University junior Matéa Knispel has been deemed one of the nation's best as announced by the National Association of Intercollegiate Athletics (NAIA) earlier today. The veteran midfielder has been named Honorable Mention All-American.

"Any time an All-American honor is given it signifies the effort put forth day in and day out, but when it is given to a player who had a break out season and stepped on the field everyday with the intention of glorifying the Lord, it is that much sweeter," said HU Coach Amanda Burge.

"Matéa was integral to our success this year and we're extremely proud of her for earning this recognition. As we look to next season we are confident she will continue to help lead our crew, on and off the field."

Knispel, just the second Forester in program history to earn All-American honors, finished the year with 18 goals for 36 points to help guide her team to an overall record of 10-8-2 and a fourth place finish in the league standings with a 5-3-1 record.

The Fort Wayne native posted seven game-winning goals for 12th in the NAIA in total game- winners. She also finished the season10th in the nation in shots per game (6.15), 12th in game winning goals per game (0.350), 14th in shots on goal per game (3.05), 25th in total goals (18), 36th in goals per game (0.9) and 44th in total points (36).

Knispel fired off a team-best 123 shots, 61 of which were on frame. She was one of seven midfielders named First Team All-Conference this year. Among her league peers, she ranked in the top three in six different offensive categories.

To date, Knispel has 25 goals and 11 assists. She has logged 286 shots, 142 on goal, and boasts ten game-winners.

The Huntington University Foresters compete in 17 intercollegiate sports for men and women. In the past decade, Huntington has produced 38 NAIA All-America honors and 274 All-America Scholar Athlete honors. Huntington University is a comprehensive Christian college of the liberal arts offering graduate and undergraduate programs in more than 70 academic concentrations. U.S. News & World Report ranks Huntington among the best colleges in the Midwest.