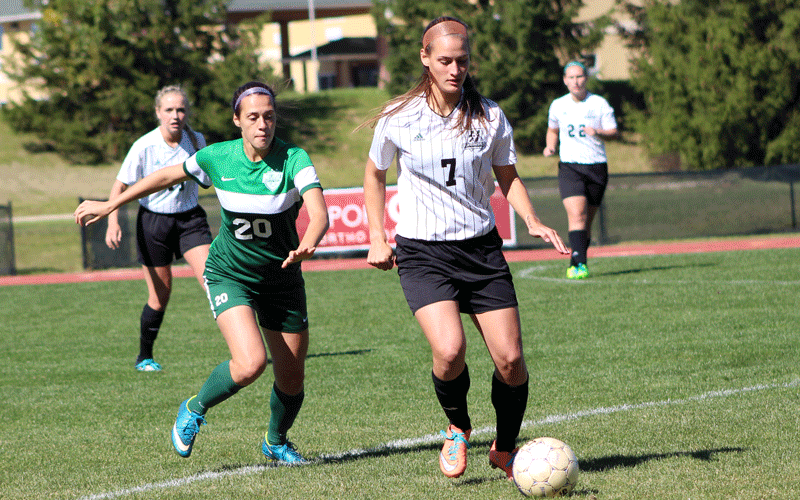 HUNTINGTON, Ind. – The Cougars of Mount Vernon Nazarene University played spoiler to Huntington's homecoming festivities by handing the Forester women's soccer team a 1-0 loss on Saturday afternoon at King Stadium.

The win is MVNU's second straight as they improve to 8-6 overall, 2-3 in league play while HU drops to 4-7-2 overall, 0-4-1 in the Crossroads League.

While the result wasn't what Coach Burge and crew had hoped for, their determination and effort was never in question as they battled until the final horn before conceding defeat. It marks HU's third loss by just one goal.

Both teams finished with four shots on goal with the visitors holding a slight 10-9 advantage on shots taken. MVNU junior Kamryn Courtright came off the bench to make the most of her opportunities by finding back netting on her only shot of the day to score the game-winner with just over 15 minutes remaining. Matea Knispel posted four shots, two on frame, to pace HU offensively.

Paige Coolman took the loss in goal for Huntington. The junior keeper tallied three saves in the losing effort.

The Foresters are back in action on Tuesday to host Grace at 4:00 p.m.

The Huntington University Foresters compete in 17 intercollegiate sports for men and women. In the past decade, Huntington has produced 38 NAIA All-America honors and 254 All-America Scholar Athlete honors. Huntington University is a comprehensive Christian college of the liberal arts offering graduate and undergraduate programs in more than 70 academic concentrations. U.S. News & World Report ranks Huntington among the best colleges in the Midwest.