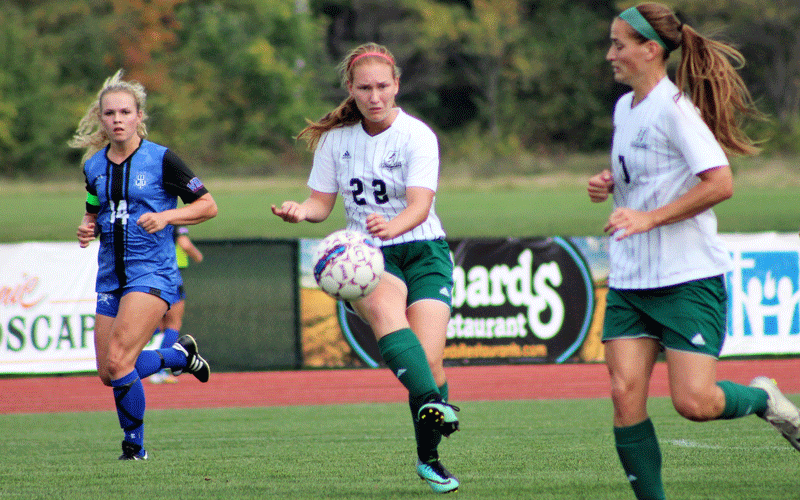 HUNTINGTON, Ind. - The Huntington women's soccer team's three-game win streak came to an end Wednesday afternoon to Lawrence Tech as the Blue Devils scored 19 seconds into the second overtime to steal a 2-1 road win from the Foresters.

The loss drops Coach Burge's squad to 3-4-1 on the year.

The Foresters dominated possession most of the contest with the payoff finally coming in the 60th minute when Jaime Calvin found Brandi Spear who buried it side netting for the 1-0 lead. The goal is Spear's third this year and Calvin's fourth assist of the season.

HU generated several other quality opportunities as evidenced by their 19 shots on the day, eight of which were on frame, but unfortunately, it didn't translate into any more points on the scoreboard while the Blue Devils made their handful of opportunities count.

Tech finished with eight shots but were able to send two of their three shots on frame into the back of the net for the come-from-behind win. The visitors' first goal came with 15 minutes left in regulation to send the game to overtime where LTU posted the golden goal in the opening seconds of the second extra period.

"It goes without saying that today's result was not what we were looking for," said Coach Burge. "The most difficult part of it was watching our group battle extremely hard for 100 minutes only to have the game slip away at the start of the second OT period.

"The ladies battled hard, connected well, communicated well and shot well - we just had trouble putting the finishing touch on the game."

Huntington has one more non-conference match, at Bluffton on Friday at 4:00 p.m., before turning their attention to conference play.

The Huntington University Foresters compete in 17 intercollegiate sports for men and women. In the past decade, Huntington has produced 38 NAIA All-America honors and 274 All-America Scholar Athlete honors. Huntington University is a comprehensive Christian college of the liberal arts offering graduate and undergraduate programs in more than 70 academic concentrations. U.S. News & World Report ranks Huntington among the best colleges in the Midwest.