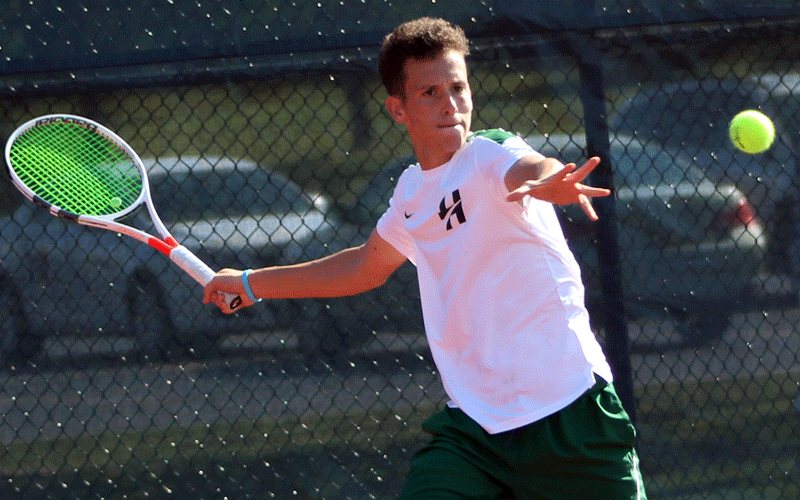 HUNTINGTON, Ind. - It came down to the last match of the evening to determine Wednesday's winner on opening day for the Forester men's tennis team. Unfortunately, Huntington ended up on the wrong side of a 5-4 decision against a talented Lawrence Tech squad. The Blue Devils are coming off last year having made a trip to the NAIA National Tournament and ranked 20th in last spring's final poll.

Doubles play favored Lawrence Tech 2-1 but Coach Eckert's crew rallied back in singles action to draw even at 4-4 with only No. 5 singles remaining where Patrick Szymczak slipped past Jacob Shelton for the win.

"With our solid play today, it gives some strong indication that we are in the hunt for a conference championship this year," said Coach Eckert. "We had a chance to win every match so we will use this to motivate our team."

The Foresters (0-1) are back at it tomorrow morning for their first conference match at Grace College.

SINGLES RECAP
#1 - Ignacio Poncio (HU) def. Javie Alvarez (LT) 6-3, 6-4
#2 - Stijn Bremer (LT) def. Rodrigo Manzo (HU) 7-5, 6-3
#3 - Giovanni Martinez (HU) def. Robert Saitov (LT) 7-5, 6-0
#4 - Mariano Echevarria (HU) def. Jan Horstkoetter (LT) 7-6 (9-7), 6-4
#5 - Patrick Szymczak (LT) def. Jacob Shelton (HU) 6-3, 7-5
#6 - Mason Wenzel (LT) def. Volodymyr Kohut (HU) 6-2, 6-2

DOUBLES RECAP
#1 - Poncio/ Echevarria (HU) def. Alvarez/Saitov (LT) 9-7
#2 - Horstkoetter/Bremer (LT) def. Manzo/Martinez (HU) 8-3
#3 - Vincent Colarossi/Wenzel (LT) def. Luke Buttermore/Shelton (HU) 8-5

The Huntington University Foresters compete in 17 intercollegiate sports for men and women. In the past decade, Huntington has produced 38 NAIA All-America honors and 274 All-America Scholar Athlete honors. Huntington University is a comprehensive Christian college of the liberal arts offering graduate and undergraduate programs in more than 70 academic concentrations. U.S. News & World Report ranks Huntington among the best colleges in the Midwest.