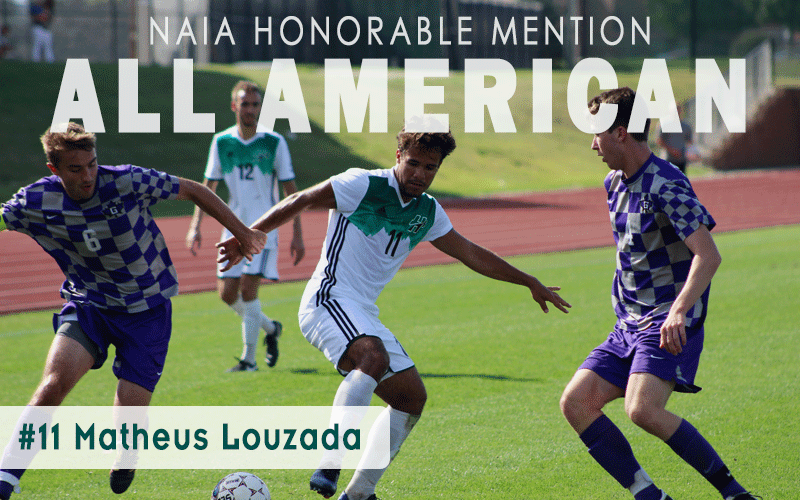 HUNTINGTON, Ind. - The National Association of Intercollegiate Athletics (NAIA) released is 2017 All-Americans and among the list is Huntington University junior Matheus Louzada.

Louzada is the first Forester since 2002 to be honored at the national level. He joins an elite group of eight men's soccer players to receive an All-American badge.

The crafty midfielder found back netting eight times this season, four of which were game-winners, while dishing out eight assists for a team-high 24 points. Forty of his 63 shots were on frame. He wrapped up the year 17th in the NAIA in shots on goal per game with his 2.35 average.

Louzada also carried five other national rankings which included finishing 35th in shots per game (3.71), 36th in total game winning goals (4), 36th in game winning goals per game (.24), 40th in assists per game (.47) and 50th in total assists (8).

The Brazilian veteran controlled the center of the park for his team and was tabbed the best at his craft in the conference by being named the Crossroads League first ever Midfielder of the Year.

For his career, Louzada has posted 16 goals and 18 assists for 50 points. He also has seven game-winners under his belt.

The Foresters finished the fall with an overall record of 10-4-5 and made it to the semifinals of the Crossroads League tourney as the fourth seed having accumulated five wins against two losses and two ties in regular season league play.

The Huntington University Foresters compete in 17 intercollegiate sports for men and women. In the past decade, Huntington has produced 38 NAIA All-America honors and 274 All-America Scholar Athlete honors. Huntington University is a comprehensive Christian college of the liberal arts offering graduate and undergraduate programs in more than 70 academic concentrations. U.S. News & World Report ranks Huntington among the best colleges in the Midwest.