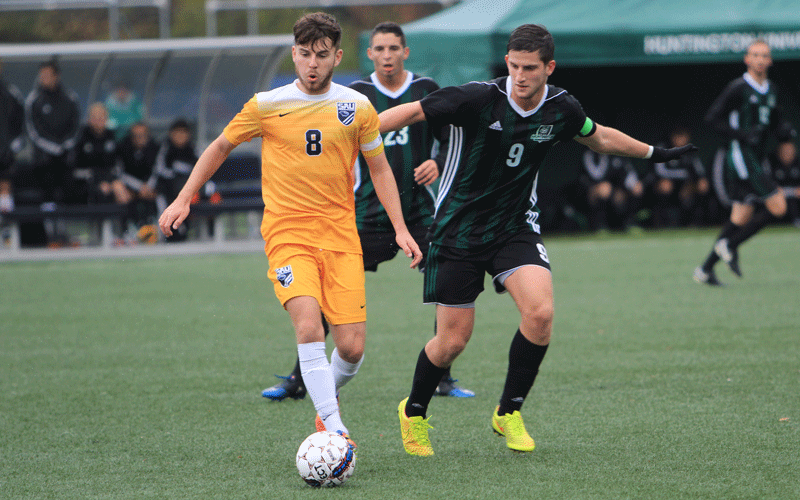 SPRING ARBOR, Mich. - It came down to penalty kicks Saturday afternoon to see who advanced to the finals of the Crossroads League Men's Soccer Tournament with top-seeded Spring Arbor University converting all five of their PKs to survive and advance over 4th-seeded Huntington.

SAU keeper Isiah Handspike came up with a monster save on HU's first PK attempt to give his team the upper hand right out of the gate as the Cougars calmly found back netting on all five of its attempts to Huntington's three to earn their second straight trip to the CL championship match.

The 110 minutes prior to the shootout was a gutsy performance by Coach Lawson's crew as they held the No. 21 team in the nation scoreless - a feat no other team has accomplished this year. The Cougars entered the day averaging nearly three goals per outing but the Foresters' defense wouldn't be cracked as the match ended in a 0-0 tie after a pair of extra periods.

While SAU advances to the finals, the match will go down in the record books as a tie which snaps the Cougars' seven-match win streak over Huntington. Spring Arbor finished the afternoon outshooting HU 17-10 while also holding a 9-4 edge in corner kicks.

"I'm so proud of the boys' performance today," said Coach Lawson. "We played with an organization and clarity that allowed us to go toe-to-toe with a strong Spring Arbor team.

"Both sides had their moments and to hold SAU goalless for 110 minutes was a testament to how well we have been playing down the final stretch of the season."

The Foresters haven't given up a goal in the last 380 minutes of play as they wrap up the year holding their last four opponents scoreless.

Nevertheless, Coach Lawson and crew were far from ready for their season to end as they finish with an overall record of 10-4-5. "No one was ready to end this season and that's what makes this so difficult. The relationships, adversity, development, sacrifice, next-man mentality and the leadership have all made this a special season.

"This group of men set a standard of playing this game with honor, maturity and class. We're not perfect but the bar has been raised once again and that is exciting for the future of HUMS."

The Huntington University Foresters compete in 17 intercollegiate sports for men and women. In the past decade, Huntington has produced 38 NAIA All-America honors and 274 All-America Scholar Athlete honors. Huntington University is a comprehensive Christian college of the liberal arts offering graduate and undergraduate programs in more than 70 academic concentrations. U.S. News & World Report ranks Huntington among the best colleges in the Midwest.