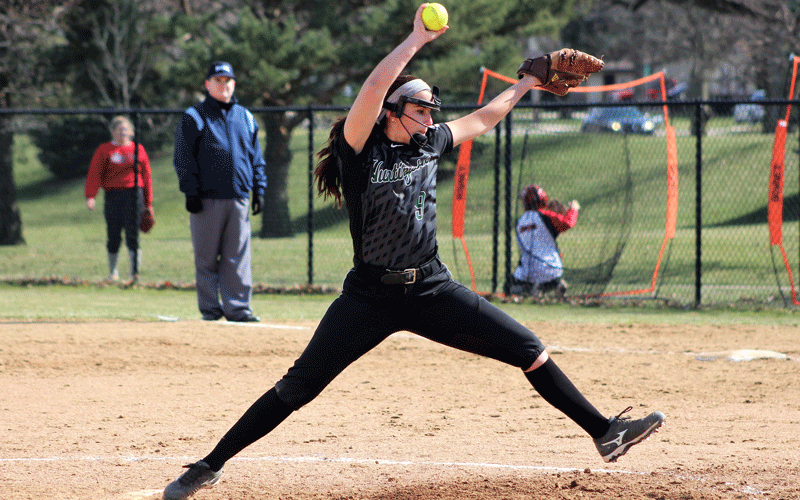 HUNTINGTON, Ind. – The Forester softball team didn't back down from one of the best offensive teams in the nation in #RV Indiana Wesleyan University (16-4, 3-1) Wednesday afternoon to split with the Wildcats, 4-2, 1-3, in a Crossroads League clash.

IWU entered the day ranked No. 1 in runs scored per game (9.5) and runs batted in per game (8.67), No. 2 in batting average (.398) and No. 3 in hits per game (11.1) but on this given day the Foresters held their visitors well below their typical averages.

Game one started off with a bang as IWU's lead-off and the NAIA's top hitter, Kaisey Carson, opened up with a homer but the Foresters refused to get rattled.

Instead Coach Gower's crew promptly responded in their half of the frame with three runs of their own. After Karley Blankenship and Audra Klopfenstein reached base on a walk and error respectively, Camille Furrow drilled a shot to deep left-center for a two-run double and an HU 2-1 lead.

Savvy base-running by Kaley Kitts, pinch running for Furrow, upped the lead to 3-1 when she took advantage of a passed ball and wild throw to touch home.

The Foresters would strike again in the third when Klopfenstein, who led off with a triple, scampered home on Ashley Brown's sacrifice bunt squeeze to extend the lead to 4-1.

IWU got one back in the fifth and threatened again in the seventh with runners on the corners but freshman hurler Lairen Miller worked her way out of the final frame to secure her third straight W.

Miller gave up seven hits and two runs, one of which was earned, while striking out two for the complete game victory.

Furrow posted two of Huntington's four hits to go along with two RBI to lead her team at the plate.

The Foresters outhit IWU 7-6 in the nightcap.

Just like game one, Carson, who leads the nation in seven different offensive categories, opened up the contest with another dinger, her 13th of the year, to give Wesleyan an early advantage.

Huntington answered in the second. After back-to-back singles by Sabrina Bethel and Amber Klopfenstein, Blankenship singled to left where the ball was bobbled allowing Bethel to make her way home for the 1-1 deadlock.

Things would stay that way until the fourth when IWU hammered out a pair of hits and took advantage of an HU error and wild pitch to plate two runs and round out the day's scoring.

Furrow was charged with the loss on the mound. She went the distance to give up six hits and three runs, only one of which was earned.

Blankenship finished with two hits to pace Huntington offensively.

The Foresters (9-8-1, 4-4) hit the road on Saturday to face Taylor University at 1:00 p.m.

The Huntington University Foresters compete in 17 intercollegiate sports for men and women. In the past decade, Huntington has produced 38 NAIA All-America honors and 254 All-America Scholar Athlete honors. Huntington University is a comprehensive Christian college of the liberal arts offering graduate and undergraduate programs in more than 70 academic concentrations. U.S. News & World Report ranks Huntington among the best colleges in the Midwest.