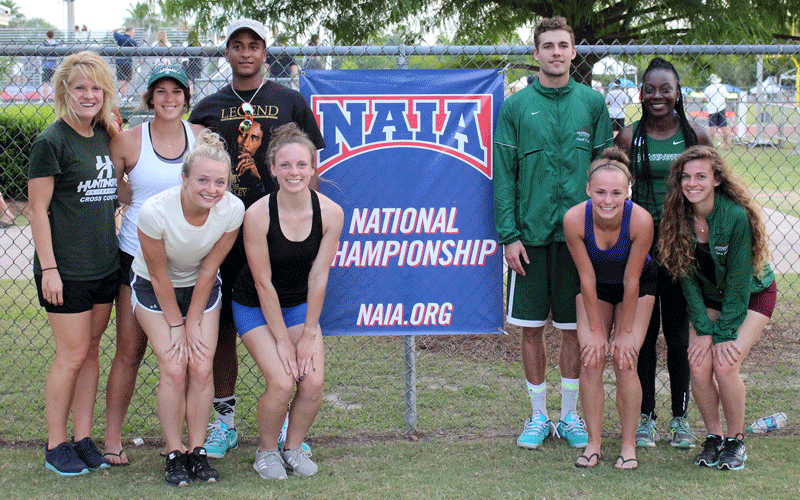 GULF SHORES, Ala. – Senior Jake Nash and junior Jean Donaldson each earned All-America honors in high jump and javelin respectively at the 2016 NAIA Outdoor Track and Field National Championships at Mickey Miller Blackwell Stadium in Gulf Shores (Ala.).

Nash's leap of 6-6 earned him the eighth spot on the podium for his first outdoor All-America badge. The Lebanon (Ohio) native (Dayton Christian HS) also boasts two indoor All-America honors in high jump.

For Donaldson, it marked her first national award. The North Miami product (Peru, Ind.) out-threw her No. 19 seed to finish eighth and become just the second female Forester to earn an outdoor All-America honor in the last decade. Her 8th-place mark of 137-06.25 shattered her previous PR by six feet.

Senior Kai Foday (Huntington, Ind., Canterbury HS) saved his best for last by turning in a career-best performance in javelin. His PR heave of 183-00.25 landed him 12th place, 11 spots ahead of his No. 23 seed.

Junior Christiana Hicks also outperformed her seeding by finishing 12th in triple jump with a mark of 37-01. The Fort Wayne native (Snider HS) entered nationals seeded 19th.

Making her debut at the big dance was freshman Mariah Harter. Harter (Warsaw, Ind., Warsaw HS) clocked in at 25.61 in the 200 meter prelims to finish 22nd overall.

Hicks and Harter were also members of the 4x100 meter relay team that finished 17th by clocking in at 48.24. The duo teamed up with sophomores Nicole Pennington (Northwood, Ohio, Lake HS) and Samantha McCoy (Greenfield, Ind., Greenfield HS).

To see pictures from nationals, click here.

The Huntington University Foresters compete in 17 intercollegiate sports for men and women. In the past decade, Huntington has produced 39 NAIA All-America honors and 234 All-America Scholar Athlete honors. Huntington University is a comprehensive Christian college of the liberal arts offering graduate and undergraduate programs in more than 70 academic concentrations. U.S. News & World Report ranks Huntington among the best colleges in the Midwest.