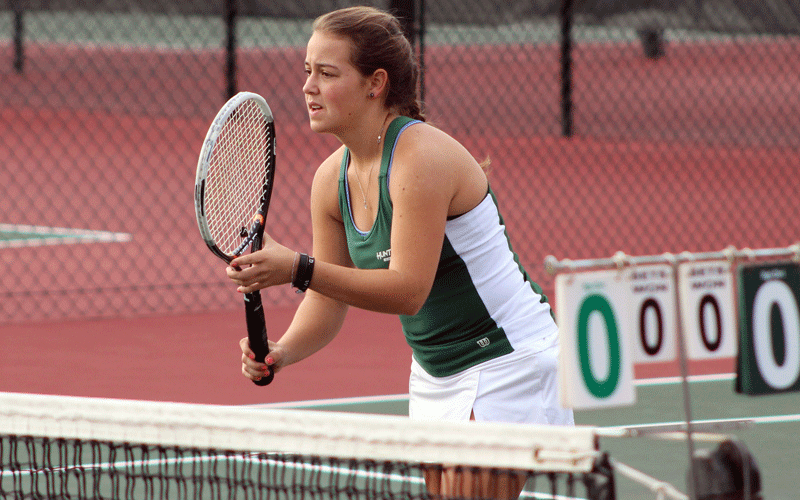 HUNTINGTON, Ind. - Except for a short rain delay, the 3rd-seeded Forester women's tennis team made quick work of 6th-seeded Saint Francis (9-7) Tuesday afternoon in the quarterfinals of the Crossroads League Tournament.

After sweeping doubles, HU tore through singles with six more wins to blank the Cougars and advance to the semifinals where they will face 2nd-seeded Marian University on Thursday. The win marks Huntington's fifth sweep of the year. The Foresters currently boast an overall record of 10-2.

Coach Ferguson's crew posted a 6-1 win on a rain-shortened regular season match against USF back on September 5.

SINGLES RECAP
No. 1 Constanze Golz (HU) def. Teaghan Dishman (USF) 6-1, 6-1
No. 2 Morgan Bemisderfer (HU) def. Grace Heise (USF) 6-0, 6-1
No. 3 Celine Rongos (HU) def. Hannah Haas (USF) 6-1, 6-1
No. 4 Haley Kuppler (HU) def. Kaylin Gibson (USF) 6-2, 6-3
No. 5 Alexis Allen (HU) def. Courtney Wittle (USF) 6-2, 6-3
No. 6 Anastasiia Evstifeeva (HU) def. Rebecca Faber (USF) 6-1, 6-1

DOUBLES RECAP
No. 1 Bemisderfer/Rongos (HU) def. Dishman/Gibson (USF) 8-4
No. 2 Golz/Kuppler (HU) def. Haas/Shelby Richardson (USF) 8-1
No. 3 Allen /Evstifeeva (HU) def. Heise/Wittle (USF) 8-4

The Huntington University Foresters compete in 17 intercollegiate sports for men and women. In the past decade, Huntington has produced 39 NAIA All-America honors and 234 All-America Scholar Athlete honors. Huntington University is a comprehensive Christian college of the liberal arts offering graduate and undergraduate programs in more than 70 academic concentrations. U.S. News & World Report ranks Huntington among the best colleges in the Midwest.