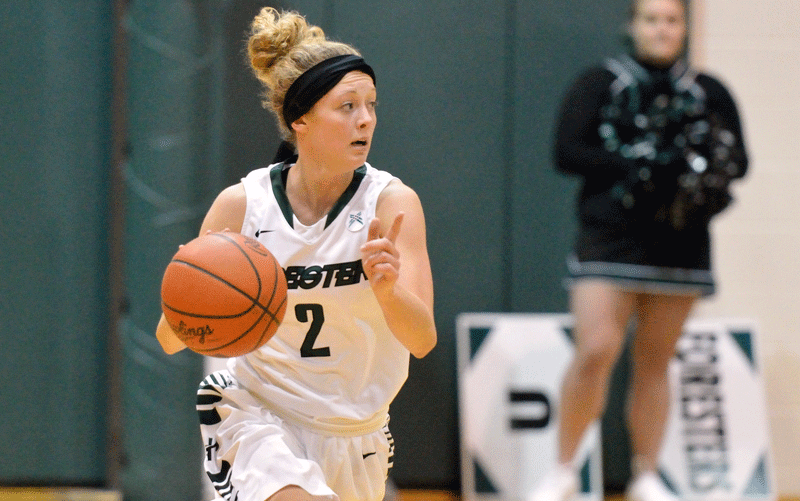 HUNTINGTON, Ind. - For the fourth time in her career, Huntington University junior Miranda Palmer was named this week's Crossroads League Player of the Week for the week of November 9, 2015.

The 5-6 junior guided the Foresters to three wins last week for a 3-0 start to the season. In HU's season opener at Holy Cross, Palmer posted a game-high 30 points which included the game-winning three with 1.8 seconds in OT to lift HU past the Saints 89-87. She also tallied six assists, three rebounds and two steals.

In HU's 67-64 overtime win against No. 2 Davenport University on Friday night, Palmer poured in a team-best 21 points to go along with three rebounds and two assists. She wrapped up the week with 19 points in Saturday's 69-51 win over Aquinas College during which she scored her 1,000 career point.

For the week, Palmer averaged 23.3 points, 3.3 assists, 2.3 rebounds and 1.7 steals per outing. She went 25-for-48 from the field for 52.1 percent which included knocking eight of her 17 three-point attempts for 47.1 percent.

To date, the Arcadia (Ohio) native has scored 1,007 points in 68 games. For her career, Palmer is averaging 14.8 points per night.

The Foresters hit the hardwood again tomorrow night when they travel to #11 Purdue Calumet for a 7:00 p.m. matchup with the Peregrines.

The Huntington University Foresters compete in 17 intercollegiate sports for men and women. In the past decade, Huntington has produced 39 NAIA All-America honors and 234 All-America Scholar Athlete honors. Huntington University is a comprehensive Christian college of the liberal arts offering graduate and undergraduate programs in more than 70 academic concentrations. U.S. News & World Report ranks Huntington among the best colleges in the Midwest.