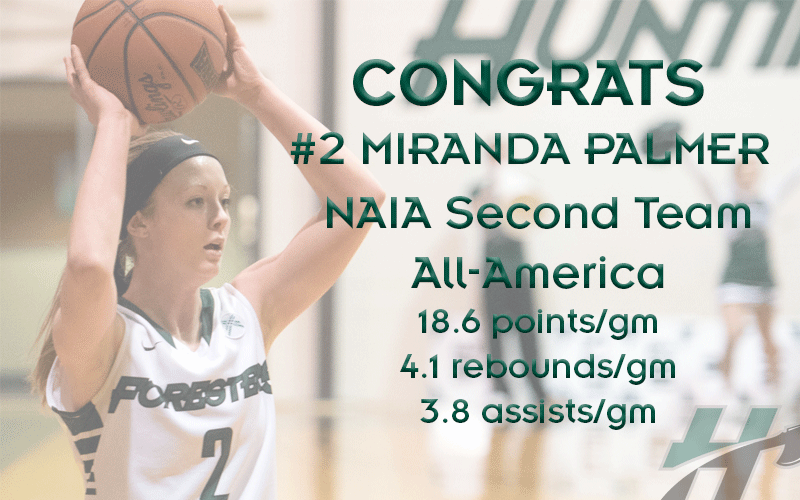 KANSAS CITY, Mo. - The National Association of Intercollegiate Athletics (NAIA) announced its 2015-16 Division II Women's Basketball All-America teams and among the list of honorees is Huntington University junior Miranda Palmer.

An Honorable Mention pick last year, Palmer (Arcadia, Ohio, Arcadia HS) was one of ten players across the nation named Second Team All-America this season. The 5-6 guard averaged a team-high 18.6 points to go along with 4.1 rebounds, 3.8 assists and 1.9 steals.

Palmer finished the year holding eight national rankings which included finishing 14th in points per game (18.6), 15th in total scoring (577), 28th in total assists (118), 29th in assists per game (3.8), 45th in field goal percentage (.468), 45th in total 3-point field goal made (68), 49th in 3-point field goal percentage (.380) and 49th 3-point field goals made per game (2.2).

As one of eight Crossroads League players to be named to an All-America team, Palmer has drawn attention from her league peers since splashing onto the scene in 2013. After being named to the All-Freshmen Team as a rookie, the Arcadia (Arcadia High School) native earned First Team All-Conference honors the past two seasons.

To date, Palmer has scored 1,514 points for a career average of 15.8 ppg which places her ninth on HU's all-time scoring list.

The Huntington University Foresters compete in 17 intercollegiate sports for men and women. In the past decade, Huntington has produced 39 NAIA All-America honors and 234 All-America Scholar Athlete honors. Huntington University is a comprehensive Christian college of the liberal arts offering graduate and undergraduate programs in more than 70 academic concentrations. U.S. News & World Report ranks Huntington among the best colleges in the Midwest.