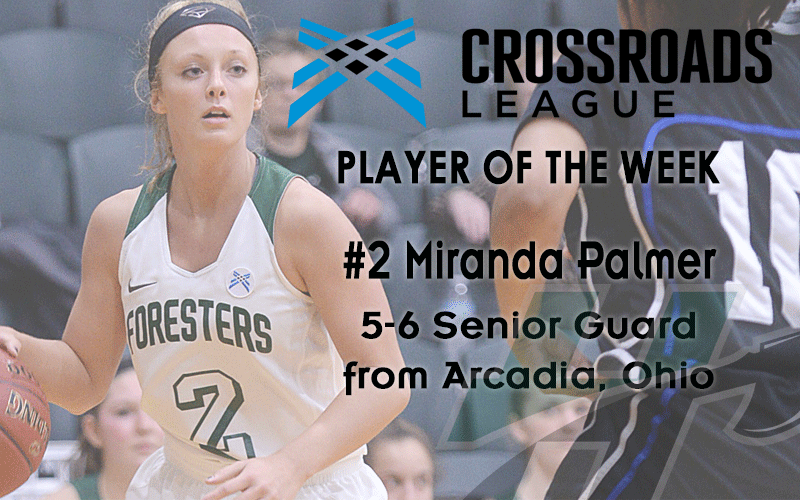 HUNTINGTON, Ind. – For the second time this season, Huntington University senior Miranda Palmer has been named the Crossroads League Player of the Week.

This week's award comes on the heels of a significant milestone in Palmer's career. Five minutes into the second quarter of Saturday's 63-62 win over Spring Arbor University, the 5-6 guard became the second Forester in program history to score 2,000 career points.

Palmer entered the contest with 1,988 points and at the 5:23 mark of the second quarter, she officially went over the 2K mark to become Huntington's second all-time leading scorer when she buried a three from the wing.

Palmer finished the day with a game-high 28 points which included the game-winner with 2.6 ticks remaining in addition to collecting four assists, three rebounds and two steals. Earlier in the week, she helped guide Coach Culler's crew to a 78-57 win over Bethel by pouring in a game-best 24 points, handing out a game-high seven assists and snagging two steals.

For the week, the Arcadia (Ohio) native averaged 26.0 points, 5.5 assists, 3.0 rebounds and 2.0 steals per game, while shooting 52.8 percent from the floor and 58.0 percent from beyond the arc.

The Huntington University Foresters compete in 17 intercollegiate sports for men and women. In the past decade, Huntington has produced 38 NAIA All-America honors and 254 All-America Scholar Athlete honors. Huntington University is a comprehensive Christian college of the liberal arts offering graduate and undergraduate programs in more than 70 academic concentrations. U.S. News & World Report ranks Huntington among the best colleges in the Midwest.