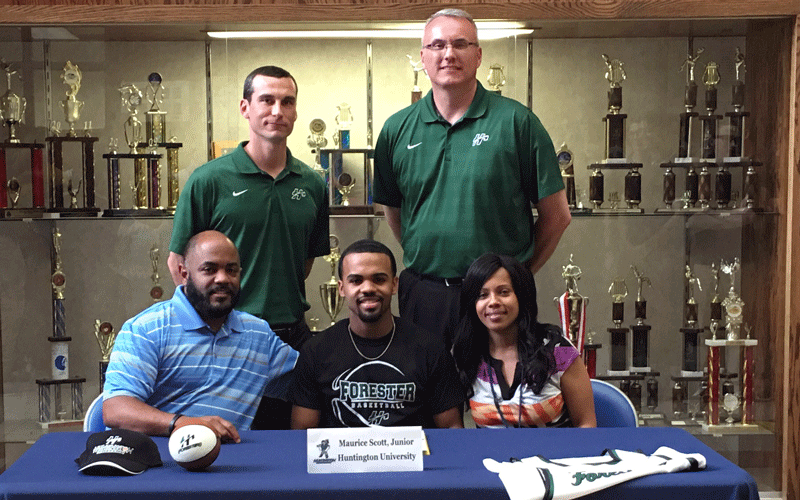 HUNTINGTON, Ind. – South Bend Riley High School standout Maurice Scott Jr. has signed his letter of intent to continue his basketball career at Huntington University this fall as announced by HU Head Coach Ty Platt earlier today.

While the 5-10 point guard boasts a four-year average of 11 points per game, he is better known for his ability to distribute the ball. Scott wrapped up his time at Riley as the program's all-time assist leader by averaging eight assists per outing for his career.

Scott has also garnered attention for his passing ability at the state and national level by finishing in the top 5 in assists in Indiana and top 40 in the country as a junior, and nearly replicating that feat by finishing in the top 10 and top 50 in the state and nation respectively this past winter.

Scott's resume also includes two sectional championships and a regional championship to go along with a Second Team All-Conference badge after averaging ten points and eight assists this year.

"Junior is a great addition to our team. He is a tough, hard-nosed, point guard who is a leader," said Platt. "Junior is always finding the open man and setting the pace on offense. He is also very capable of scoring and knocking down shots which makes him very valuable for our team. "

"Junior is a top notch student and person. We look forward to him making a positive mark on our program and fully expect him to have a great career as a Forester."

Maurice is the son of Maurice and Renee Scott of South Bend, Ind.

The Huntington University Foresters compete in 17 intercollegiate sports for men and women. In the past decade, Huntington has produced 38 NAIA All-America honors and 254 All-America Scholar Athlete honors. Huntington University is a comprehensive Christian college of the liberal arts offering graduate and undergraduate programs in more than 70 academic concentrations. U.S. News & World Report ranks Huntington among the best colleges in the Midwest.