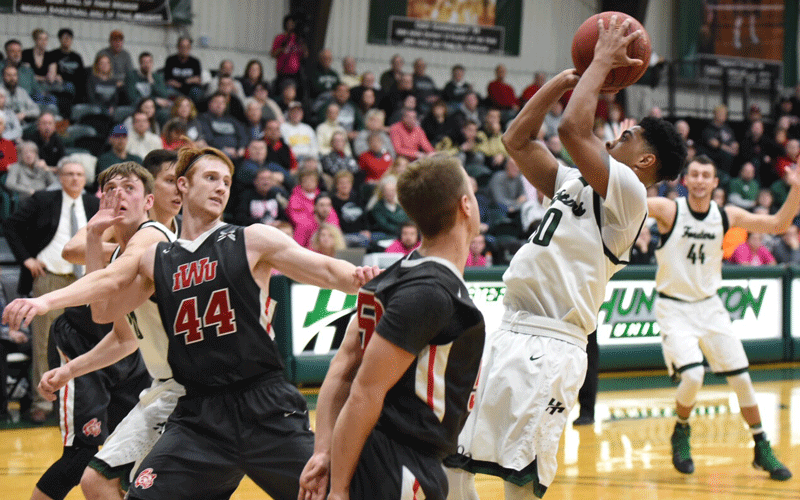 HUNTINGTON, Ind. – Freshman Konner Platt played anything like a rookie Saturday afternoon in HU's 93-90 upset over #6 Indiana Wesleyan University. The 6-2 guard scored his team's final six points in the last 15 seconds of play to ice the win and snap the Foresters' three-game skid.

While Coach Platt's crew never trailed in the final 18 minutes of play, the end wasn't without drama as it came down to the last play in a packed Platt Arena. Up 82-70 with just under five minutes remaining, the Foresters watched their lead dwindle down to a mere point, 87-86, before Platt stepped up in the waning seconds.

With the shot clock winding down, the Huntington North High School product buried his third three of the day with 15 ticks remaining to extend the lead to four at 90-86. Grant Zawadzki kept things interesting by matching Platt's three with :09 seconds on the clock to trim the lead to just one at 90-89.

It was a free throw shooting contest after that with Platt winning the battle by going 3-for-4 while the Wildcats converted just one of their two attempts in between Platt's trips to the line.

The dramatic finish came on the heels of two big back-to-back plays by IWU in the final minute of action - a four-point play followed by a three-pointer after forcing an HU turnover – for seven straight points that Platt finally disrupted with his huge three.

The Wildcats led for just two possessions on the day that totaled less than 60 seconds in the opening minutes of the second stanza. Aside from these briefs moments and four ties, the Foresters remained in control over last year's NAIA National Champions by finally breaking out of their shooting slump.

After shooting just 43.9 percent from the floor over their last three games, HU connected on 34 of their 59 shot attempts to sizzle the nets for 57.6 percent which included going 9-for-17 from deep.

Mason Coverstone led the charge for Huntington with 18 points on 8-for-11 shooting. Platt added 16 points which included going a perfect 3-for-3 from long range. Tyler Arens was a rebound shy of a double double with 15 points and a game-tying nine boards. Daniel Woll, saddled with foul trouble most of the day, added 12 points. Mike Bush also tallied 12 points in addition to handing out 16 dimes and swiping three steals.

Jacob Johnson poured in a career-best 33 points to pace the visitors. Lane Mahurin, the league's leading scorer, finished with 16 points and nine rebounds while Bob Peters and Saikou Jallow added 15 and 13 points respectively.

The win over the Wildcats is HU's first since January 3, 2011, when the Foresters posted an 84-76 W at Luckey Arena. Huntington is now 15-11 on the year, 6-8 in league play while IWU drops to 20-6 overall, 10-4 in Crossroads League action.

Platt's crew will face their second straight Top 20 team when they travel to #20 Saint Francis on Tuesday for a 7:00 p.m. tip-off.

The Huntington University Foresters compete in 17 intercollegiate sports for men and women. In the past decade, Huntington has produced 38 NAIA All-America honors and 254 All-America Scholar Athlete honors. Huntington University is a comprehensive Christian college of the liberal arts offering graduate and undergraduate programs in more than 70 academic concentrations. U.S. News & World Report ranks Huntington among the best colleges in the Midwest.