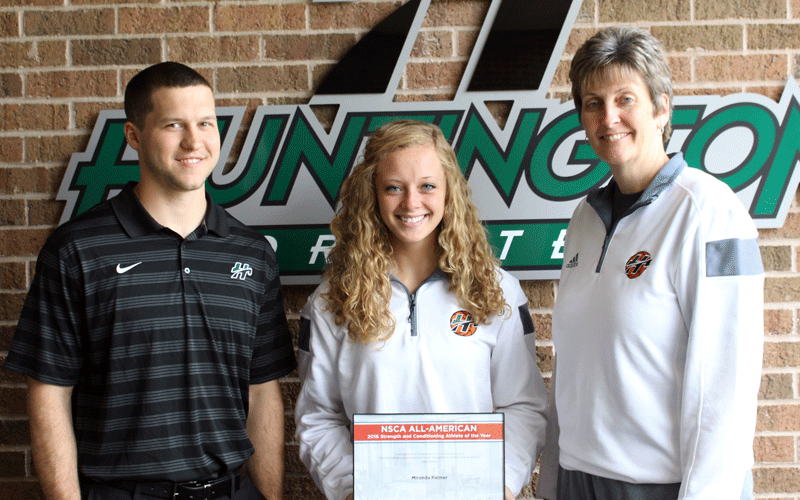 HUNTINGTON, Ind. - The awards continue to pile up for Huntington University junior Miranda Palmer. Palmer recently two postseason awards for her success on the hardwood this past winter.

Earlier this month, Palmer (Arcadia, Ohio, Arcadia HS) was named to the Women's Basketball Coaches Association (WBCA) NAIA Honorable Mention All-America Team. She averaged a team-high 18.6 points to go along with 4.1 rebounds, 3.8 assists and 1.9 steals this season.

The 5-6 guard finished the year holding eight NAIA national rankings which included finishing 14th in points per game (18.6), 15th in total scoring (577), 28th in total assists (118), 29th in assists per game (3.8), 45th in field goal percentage (.468), 45th in total 3-point field goal made (68), 49th in 3-point field goal percentage (.380) and 49th in 3-point field goals made per game (2.2).

Palmer was also honored with a 2016 All-America Athlete Award by the National Strength and Conditioning Association (NSCA) for her work in the off season and in the classroom.

This award recognizes Palmer's athletic accomplishments and her dedication to strength and conditioning. Nominated by strength and conditioning coach Tyler Palmer of Huntington University, Palmer's determination to improve in athletics while maintaining academic prominence is a great model for all student-athletes at Huntington University.

To date, Palmer has scored 1,514 points for a career average of 15.8 ppg which places her ninth on HU's all-time scoring list.

The Huntington University Foresters compete in 17 intercollegiate sports for men and women. In the past decade, Huntington has produced 39 NAIA All-America honors and 234 All-America Scholar Athlete honors. Huntington University is a comprehensive Christian college of the liberal arts offering graduate and undergraduate programs in more than 70 academic concentrations. U.S. News & World Report ranks Huntington among the best colleges in the Midwest.