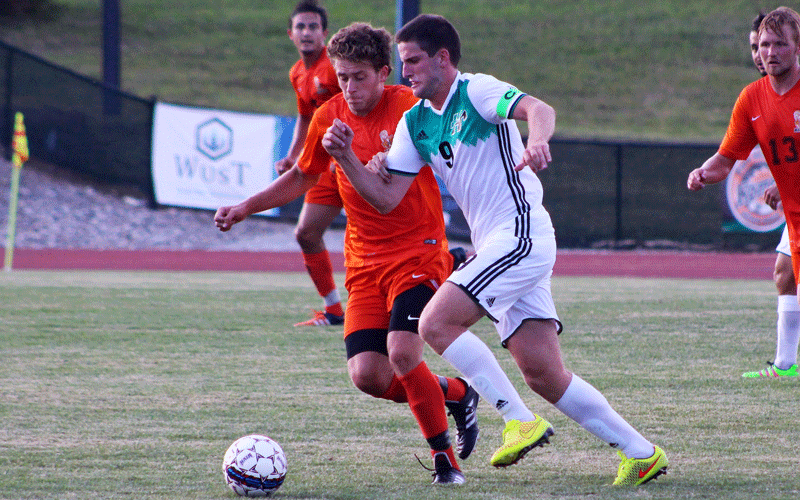 HUNTINGTON, Ind. - In an emotionally charged battle against #RV Indiana Tech, the Forester men's soccer team came out on the short end of a 2-1 decision at King Stadium Wednesday afternoon.

It was a tale of two halves for HU as Coach Lawson praised his team's opening 45 minutes.

"We came out strong and moved the ball really well to generate a couple of opportunities and reaped the benefits early on for a quick 1-0 advantage."

On a restart just over ten minutes in, Brooks Smith played a ball to Miguel de Sousa who got on top of it with a header for a picture perfect goal, his first of the season.

The scored remained as is until just before halftime when the Warriors slipped one past HU keeper Troy Hester for the 1-1 stalemate. It proved to be the turning point.

"We were getting possession and moving the ball so well and then we switched off after that goal," said Lawson. "We didn't take care of the ball in our box and paid the price.

"From that point on, we struggled to regain momentum through the middle of the park. They did a better of closing us down and taking away our options in the second half and we struggled to find answers."

The final 45 minutes featured just six shots but as luck would have it, the game-winner came on an own goal 15 minutes in to make for the 2-1 final.

"I thought we fought well until the end but unfortunately we weren't able to find the equalizer," said Lawson. "I'm disappointed that we switched off but we'll be better. I am confident of that.

"I look forward to this weekend against some top notch competition."

HU heads to Kentucky over Labor Day weekend for the University of the Cumberlands Classic. Lawson's crew will face Union on Saturday at 3:30 p.m. and then Cumberland on Monday at the same time.

The Huntington University Foresters compete in 17 intercollegiate sports for men and women. In the past decade, Huntington has produced 38 NAIA All-America honors and 274 All-America Scholar Athlete honors. Huntington University is a comprehensive Christian college of the liberal arts offering graduate and undergraduate programs in more than 70 academic concentrations. U.S. News & World Report ranks Huntington among the best colleges in the Midwest.