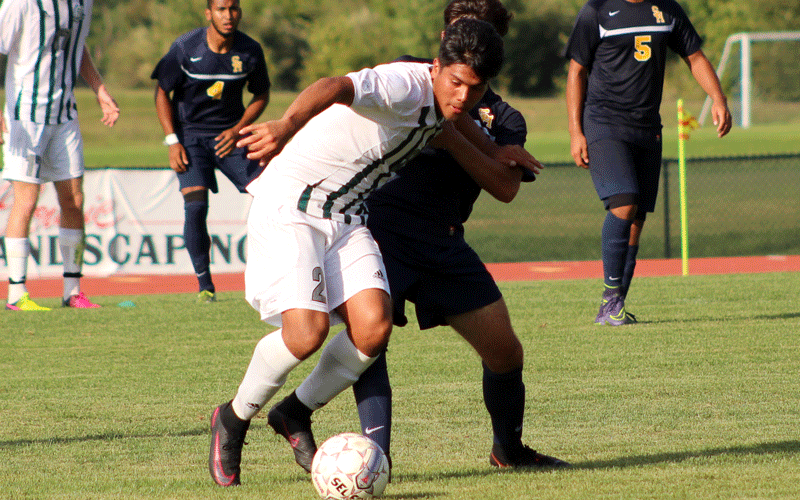 HUNTINGTON, Ind. – The HU men's soccer team dropped a 1-0 decision to the visiting Saints of Siena Heights University (1-2) Wednesday afternoon in nonconference action at King Stadium.

It was a hard fought battle where defense defined the day as both teams combined for just 15 shots with HU enjoying the slight 8-7 tilt. The game's only score came just 15 minutes in when Luis Miguel Anaya assisted Matt Wilkie for his first goal of the year, just the second of his career.

It looked like HU was poised for the equalizer when their visitors were assessed a foul in the box less than 60 seconds later but the golden opportunity slipped away when SHU keeper Leo Hisamatsu came up with the save on the penalty kick to deny the Foresters the easy score.

Huntington's aggressiveness never wavered as they continued to pressure the Saints' defense until the bitter end which included several quality shots in the final five minutes of play. HU generated seven corners kicks to SHU's two.

"From the start, we knew playing four games in seven days was going to be a challenge," said Coach Russ Lawson. "We've been dealing with some adversity on the offensive side of the ball trying to figure out ways to put it in the back of the net but it's through that adversity that we will be strengthened.

"I believe in these guys, I believe in this team and the resolve we have. We've played some quality competition and this is only going to make us stronger. Today once again, it was a match we controlled the majority of possession. I'd say we doubled up on quality opportunities even though the shots say elsewise. We just have to have more of a laser focus in the box."

The Foresters (1-4) hit the road on Saturday to face Defiance College (OH) at 1:30 p.m.

The Huntington University Foresters compete in 17 intercollegiate sports for men and women. In the past decade, Huntington has produced 38 NAIA All-America honors and 254 All-America Scholar Athlete honors. Huntington University is a comprehensive Christian college of the liberal arts offering graduate and undergraduate programs in more than 70 academic concentrations. U.S. News & World Report ranks Huntington among the best colleges in the Midwest.