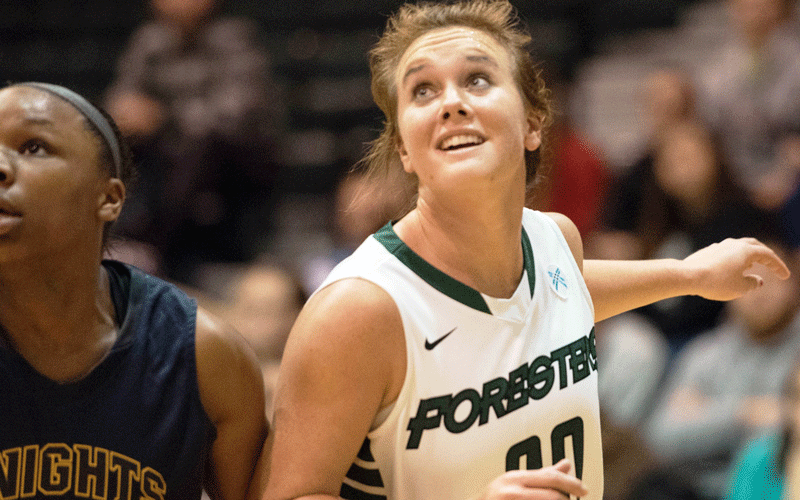 MEET AMELIA RECKER

Hometown: Arlington OH
High School: Arlington
Sport: Basketball
Major: Biology Pre-med

Favorite Bible verse: Ecclesiastes 3:1
Favorite HU professor: Timothy Troyer
Hidden talent: I can hold my breath under water for a long time.
Favorite family vacation growing up: Myrtle Beach
Highlight of your HU athletic career (on or off the field): Beating IWU at their place by 20 points in the conference tournament

What was the highlight of your summer? The highlight of my summer was just being able to be home with my family. We do not get to see each other much during the school year so being able to just spend time and make more memories with them is always a blessing.

Why did you choose HU? I always knew that basketball was something that I wanted to continue. Huntington allowed me to do that and the program and coaches really felt like home to me. I knew it was a place I would be challenged and could grow as a person and player.

What is one of the things you love most about your teammates? I love how close we are and how we always have each other's backs. We spend a lot of time together on the court and in the gym but we also like to have team meals outside of the gym.

How have you grown in your faith since coming to HU? After going on a mission trip with the basketball team I really saw how God was changing my life. I started living my life more for the relationships and the people I could impact rather than the materialistic side of things. I am more open about my journey with Christ. Basketball has also given me the opportunity to do devotions with the team many times and I really dove into God's word and have worked through parts of my life with the girls.