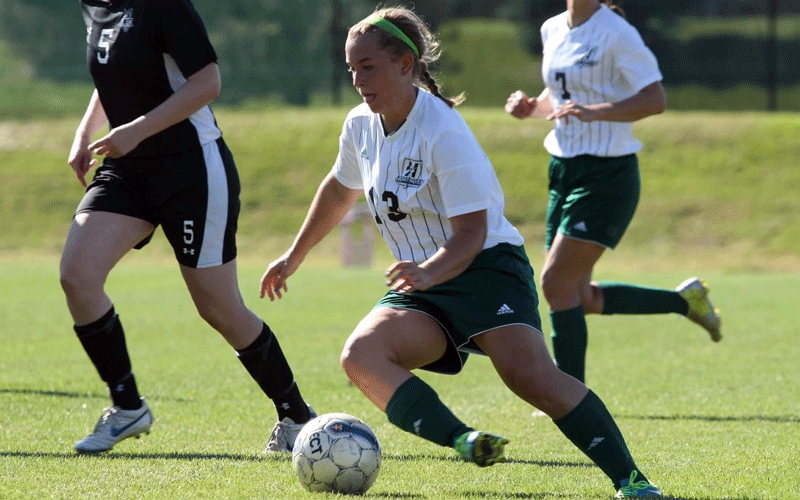 MEET BETHANY QUINN

Hometown: Holland, MI
High School: Freedom Christian
Sport: Soccer
Major: Exercise Science

What is your favorite Bible verse? 2 Corinthians 12: 9-10

Who is your favorite HU professor? Dr. Eilers

What is one of your hidden talents? I can't do a cartwheel.

What was your favorite family vacation growing up? Colorado Springs, CO

What has been the highlight of your HU athletic career? When my roommate, Rachel TerMarsch, and I both scored header goals during the same game against Holy Cross last year on Homecoming Day.

What was the highlight of your summer? My job this summer took me to one of the best places on earth. I worked at Camp Timberline, a sport and mountain adventure camp located in Rocky Mountain National Park in Estes Park, CO, where I coached girls' soccer and was a counselor. The opportunities to challenge, encourage, and love kids while being fully immersed in the CO mountains and Jesus is an unforgettable experience. And taking teens on sunrise hikes is not half bad either.

Why did you choose HU? I desired a place where I could be around people who for the majority shared the same faith values that I hold to while also being able to play soccer. As an athlete I desired an atmosphere that not only challenged me as an athlete, but had an atmosphere that was about service and growing your relationship with Christ at the core.

What is one of the things you love most about your teammates? Some of the things that I love most about my teammates are things I will remember long after I forget how many wins and losses my team had. They take the time to not only care about my performance on the field as their teammate, but care about me as an individual and all the other things that go on in my life besides soccer. I have never been a part of any team who gets along as well and loves each other as well as the teams I have been a part of at HU have. It's been an incredible family to be a part of and I know I have met some life-long friends along the way.

If you could spend the day with anyone from Bible times, who would it be and why? I would want to spend time with anyone who during Jesus' ministry had a personal encounter with Him. People like the lame man who was healed to walk again, and the blind man who was healed to see again. People like the woman at the well or the woman that reached out and touched Jesus' cloak in the crowd. I would love to sit down and hear their individual stories about what their lives were like before Jesus and how their lives were forever changed after their encounter with Him.