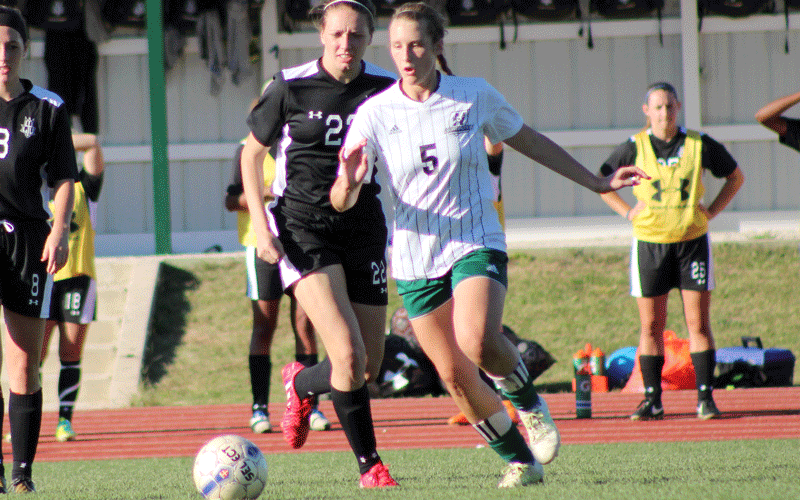 MEET CATELYN MEFFERD

Hometown: Convoy, OH
High School: Crestview
Sport: Soccer
Major: Elementary Education

What is your favorite Bible verse? Luke 16:10

Who is your favorite HU professor? Dr. Joni Schmalzried

What is one of your hidden talents? I can wiggle my nose like a rabbit.

What was your favorite family vacation growing up? Almost every summer while I was growing up we would go and visit my aunt in North Carolina. While we were there we would go to UNC or Duke and do all kinds of different things. It's much prettier there than in boring 'ole Indiana.

What has been the highlight of your HU athletic career? During my sophomore year we beat Mount Vernon 1-0 to move on to the semifinals of the Crossroads League tourney. We then played Spring Arbor and lost 2-1 in double overtime. We may have lost, but I was still so proud of our team for putting up the fight that we did. That game will forever stick in my mind.

What was the highlight of your summer? I went to Las Vegas over the summer for my brother's basketball tournament. That place is awesome/mind-blowing all at the same time. It's also quite a culture shock.

Why did you choose HU? I chose HU because when I came to visit I got such a positive vibe from the campus. It seemed like such a great place to be and it was something I wanted to invest in. It intrigued me. Being able to play soccer was a part of me coming here as well.

What is one of the things you love most about your teammates? Our team chemistry. Our team gets along so well. It's weird. You would think with 35 girls on one team that there would be tons of drama, but surprisingly there isn't.

How have you grown in your faith since coming to HU? While I was growing up I basically had the faith that my parents had. I went to church every Sunday because they would go. Since coming to HU, my faith has become my own. It has been my choice to get up and go to church on Sunday's. My faith is no longer something that I got from my parents, but it is now my own.