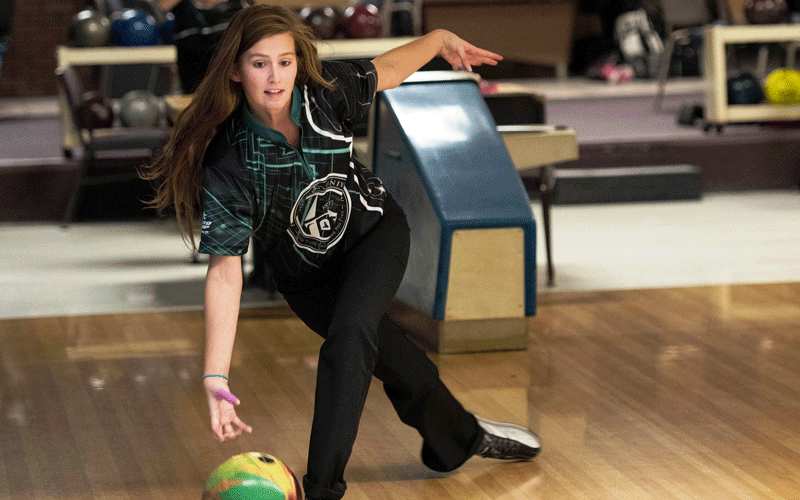 MEET ELENI NEWSOME

Hometown: Huntington, IN
High School: Huntington North
Sport: Bowling
Major: Psychology and Criminal Justice

Favorite Bible verse: 2 Corinthians 12:9
Favorite HU professor: Officer Petersen
Hidden talent: I can binge watch Netflix and still get great grades.
Favorite family vacation growing up: Trip to Pennsylvania
Highlight of your HU athletic career: Walking in downtown Nashville, my freshman year, and eating at Hard Rock Café, they had really delicious bacon!

What was the highlight of your summer? This past summer I worked at Camp Cotubic as a camp counselor, and I went all in. I loved spending a lot of my time helping kids grow in their faith, listening to kids, giving them love and being overly energetic. I also overcame my fear of heights this summer!

Why did you choose HU? I chose HU because my mom went here for a year, and also because HU was starting a bowling team, and I got recruited.

What is one of the things you love most about HU? I really love all the professors at HU, they don't hesitate to help their students. I would not have made it through my college career if it weren't for my professors who encouraged me and were there for me when I needed to talk. My professor didn't just help me academically, they also helped me emotionally. The professors ROCK!

What is one of the things you love most about your teammates? Whenever I am around my teammates, they always make me smile at least once. It is also really clear how much they care for each other. One time at practice I fell flat on my face, and it really hurt, but afterwards a lot of my teammates came down to my lane to make sure I was okay, and that helped the pain, and I genuinely felt cared for.