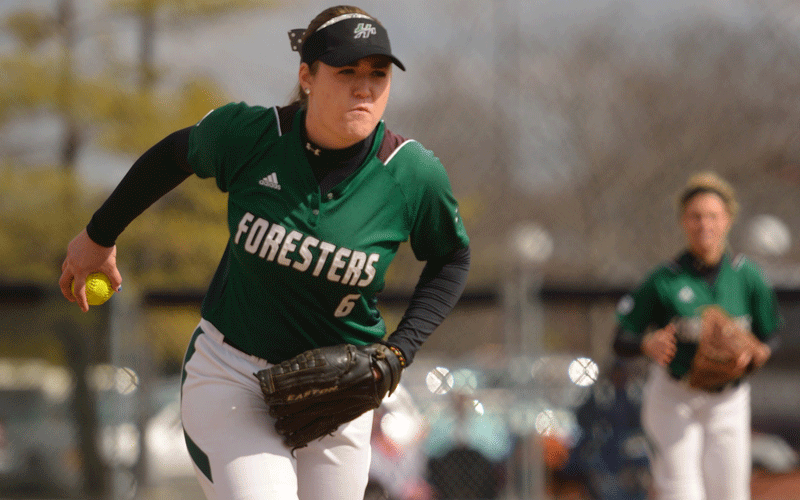 MEET EMILY PUTERBAUGH

Hometown: Petersburg, MI
High School: Summerfield
Sport: Softball
Major: Exercise Science

Favorite Bible verse: Joshua 1:9

Favorite HU professor: Matthew Ruiz

Favorite family vacation growing up: Before I started playing summer softball, my family would always travel up north to Cadillac and Manistee in Michigan where we have a little bit of property and go fishing and swim in Lake Michigan. My favorite thing was always getting ice cream from House of Flavors in Manistee.

Highlight of your HU athletic career: Throwing a perfect game against Mount Vernon at home last year and beating Bethel to secure our trip to Nationals my sophomore year.

Why did you choose HU? I chose HU because it was where I got the best financial offer and where I felt the most wanted on the softball team. Coach Gower made me feel like he needed me on the team; with other schools it didn't seem like as big of a deal.

What is one of the things you love most about HU? I love Hardy 3rd! I have lived on the same floor for all four years of my career and have loved the community and friendships Hardy brings.

What is one of the things you love most about your teammates? My teammates are really encouraging and supportive. When I'm out on the mound, I know I can count on the people behind me to have my back. We play to glorify God and we play for each other.

How have you grown in your faith since coming to HU? HU has challenged me to think about things in a different light and step out of my comfort zone. I went on a mission trip to Jamaica during J-term of my junior year and that has brought me closer to God and made me bolder in my faith.