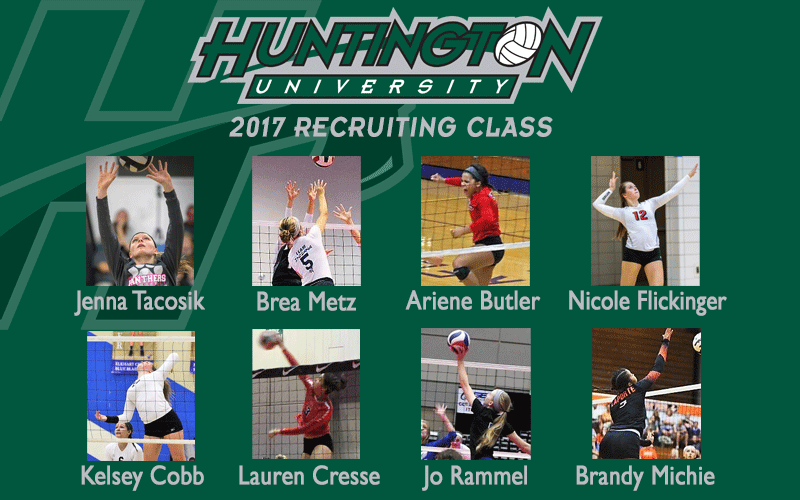 HUNTINGTON, Ind. - Huntington University head coach Kyle Shondell has announced the signing of eight players to his 2017-18 volleyball roster.

"The eight signees we have in our 2017 class each bring something special to Forester Volleyball," said Shondell. "Plenty of ball control and offense highlight the class, but each one of these athletes brings with them the character pieces we value in our program; that and they each bring some fire and the clear desire to compete and win. We are really excited to see each of them in Platt Arena this fall!"

Jennings (Jenna) Tacosik, Lakewood Park Christian School (Auburn, IN)
5'9" Setter
"Jenna was the first to commit in our 2017 class. We knew she could help us then, but in a little over a year, her improvement has been astounding. An excellent representative of what our program strives for, Jenna has the potential for a special career at Huntington."

Ariene Butler, Huntington North HS (Huntington, IN)
5'2" Defensive Specialist
"A local product, one of our team's biggest fans, and an incredibly athletic backcourt player; Ariene was a no-brainer. She joins a fleet of talented defensive specialists with the competitive spirit necessary to make something happen in her time at HU."

Breanna (Brea) Metz, Hauser HS (Hope, IN)
5'10" Outside Hitter
"There aren't very many pin hitters in our conference with the skills that Brea has. Her ball control, which continues to improve, will allow her to do a lot for us, but it's her power and shot selection that most people will notice first. Brea may have the opportunity to contribute immediately as a Forester."

Nicole Flickinger, NorthWood HS (Nappanee, IN)
5'6" Defensive Specialist
"Nicole also joins that very talented bevvy of backcourt players, but also has the competitive spirit required to help us at Huntington. While she played almost every position through high school and club, it's her ball control and serve receive that make her a player we are excited about."

Lauren Cresse, Homeschool (Fort Wayne, IN)
5'11" Middle Blocker
"We're just starting to see how high Lauren's ceiling is. Her athleticism and natural feel for the game makes her somebody to you'll want to watch now and to certainly keep an eye on as she develops. I am really excited to see her get in our gym and start to climb that ladder."

Josephine (Jo) Rammel, Muncie Central HS (Muncie, IN)
5'9" Outside Hitter/Opposite
"Jo has been surrounded by an incredible culture for most of her playing career. When she enters the forest this fall, she brings not only her versatility and uncanny ability to score, but also that experience and attitude that comes from being around that type of culture and environment."

Brandy Michie, LaPorte HS (LaPorte, IN)
5'9" Middle Blocker/Opposite
"Brandy is a dynamic athlete. The type of player that can become very hard to stop. She also possesses that competitive desire we strive for in our program that a lot of this class brings. Don't be surprised to see her make an impact in a short amount of time."

Kelsey Cobb, Elkhart Central HS (Elkhart, IN)
5'8" Outside Hitter/Opposite
"Kelsey is no stranger to the Forester family, and she brings a lot of the irreplaceable characteristics found in her sister (Kate). However, there are several unique pieces that make Kelsey a special addition to this group; she has that competitive drive, but channels it differently. That, and her consistent ability to find open floor make her a tremendous fit for our program!"

The Forester volleyball team opens up the season with their own invitational on August 18-19.

The Huntington University Foresters compete in 17 intercollegiate sports for men and women. In the past decade, Huntington has produced 38 NAIA All-America honors and 254 All-America Scholar Athlete honors. Huntington University is a comprehensive Christian college of the liberal arts offering graduate and undergraduate programs in more than 70 academic concentrations. U.S. News & World Report ranks Huntington among the best colleges in the Midwest.