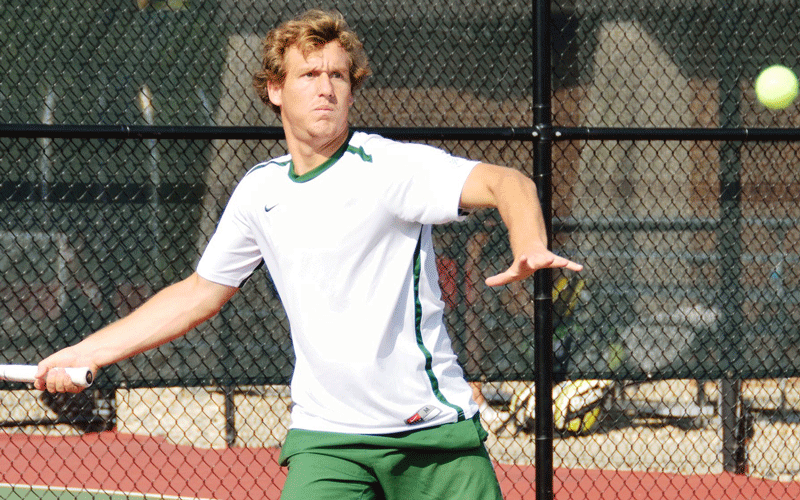 HUNTINGTON, Ind. - The Crossroads League announced its 2015 Men's Tennis All-Conference Team and among the list of honorees were Huntington University senior Joseph Straznicky and freshman Ignacio Poncio.

It marks Straznicky's third consecutive All-Conference accolade. Playing at HU's No. 1 spot, the Peru native finished 5-3 in doubles and 2-6 in singles in regular season league play.

Straznicky finished the fall season with an overall doubles record of 11-4 and an overall singles record of 3-9.

Poncio made an immediate impact on the league by storming through singles with a 6-2 record at the No. 2 spot on his way to an overall singles record of 12-3.

The rookie from Argentina spent most of the season at No. 1 doubles with Straznicky where he accumulated a 4-4 record in Crossroads action, a 9-4 record overall.

With two All-Conference players, HU finished behind IWU and Marion who landed three players each on the All-Conference team. Huntington (4-9) finished sixth in the conference standings with a 3-5 Crossroads record.

The Huntington University Foresters compete in 17 intercollegiate sports for men and women. In the past decade, Huntington has produced 39 NAIA All-America honors and 234 All-America Scholar Athlete honors. Huntington University is a comprehensive Christian college of the liberal arts offering graduate and undergraduate programs in more than 70 academic concentrations. U.S. News & World Report ranks Huntington among the best colleges in the Midwest.