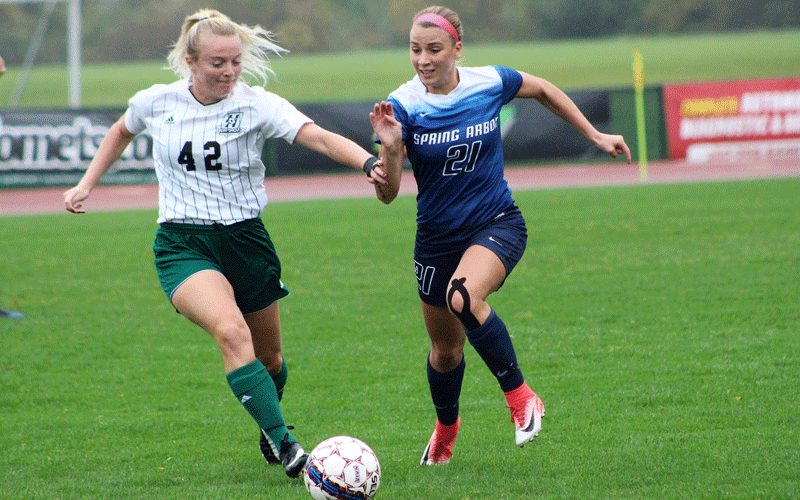 HUNTINGTON, Ind. - Up against one of the nation's best, the HU women's soccer team held their own before dropping a 2-0 decision to #2 Spring Arbor University Wednesday afternoon to drop to 6-6-1 overall, 2-2 in league play.

The Cougars (12-1, 4-0) entered the contest averaging nearly four goals per contest behind the league's leading scorer in Bethany Balcer but a feisty Forester squad made sure SAU's typical outing didn't hold true at King Stadium. After giving up an early goal and another just before halftime, HU held their visitors scoreless over the final 45 minutes to make for the 2-0 final.

It's just the fifth time this year that last year's national runners-up were held to just two goals.

The Cougars posted 20 shots, 13 on frame, to Huntington's four. Spring Arbor also won the corner kick battle 11-0.

Paige Coolman took the loss in goal. The senior keeper tallied ten saves.

"Losing is never easy, but a loss against a national powerhouse on an evening where we played solid possession soccer, even under wet conditions, gives reason to be proud," said Coach Burge. "But more than that these ladies played with an emphasis on teamwork and communication, putting together multiple scoring opportunities.

"Though we wanted a win, we walked off the field heads held high and ready for Saturday."

Coach Burge's crew heads to Mount Vernon on Saturday for a 3:00 p.m. matchup with the Cougars.

The Huntington University Foresters compete in 17 intercollegiate sports for men and women. In the past decade, Huntington has produced 38 NAIA All-America honors and 274 All-America Scholar Athlete honors. Huntington University is a comprehensive Christian college of the liberal arts offering graduate and undergraduate programs in more than 70 academic concentrations. U.S. News & World Report ranks Huntington among the best colleges in the Midwest.