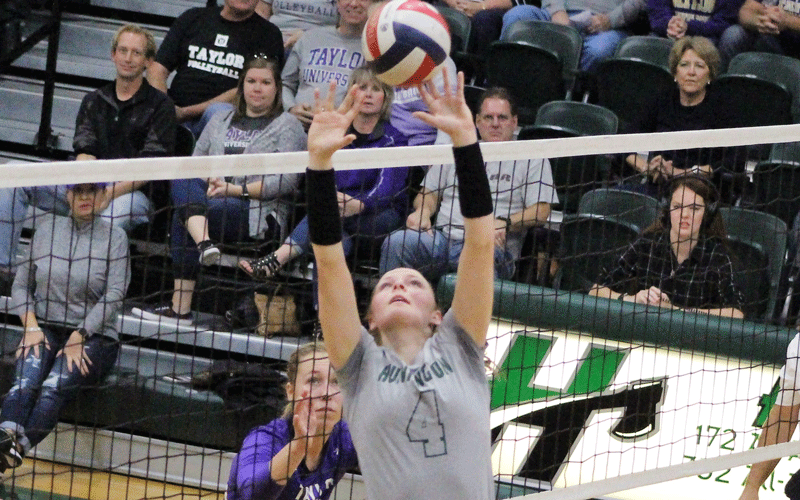 HUNTINGTON, Ind. - The HU volleyball team grieved its second loss to Taylor University this season Wednesday night at Platt Arena. The Trojans got the best of Huntington 3-1 on September 6 and this time around it was a 3-0 shutout (-23, -14, -22).

However, the Foresters didn't go down without a fight as they battled every point to the bitter. Unfortunately, they just could never get over the hump as they suffered their sixth shutout of the year.

"Tonight was an emotional one," said Coach Shondell. "Taylor brought a lot of energy, heart and fans."

Tailor Schultheis finished with a match-tying 12 kills to pace Shondell's crew offensively. Danielle Gurwell added nine and Josie Beaver collected eight kills in addition to posting 2.5 blocks. Janna Tacosik handled setting responsibilities to finish with 34 assists while Kate Cobb tallied a team-best 20 digs to anchor the backline.

By the numbers, the Trojans owned a slight advantage across the bottom line. Behind Rachel Bouma's 12 kills and .545 hitting percentage, TU finished with one more kill than their hosts and a higher hitting percentage. They also out-blocked HU 5-4 and committed three less service errors.

"They had a really strong game plan and executed really well," said Shondell. "We adjusted and slowed them down as the match wore on, but it was too little too late.

"Rachel Bouma has been a premier player in this league for years, tonight was no difference."

Huntington (12-17, 6-8) has a week's break before heading to Indiana Wesleyan next Wednesday.

The Huntington University Foresters compete in 17 intercollegiate sports for men and women. In the past decade, Huntington has produced 38 NAIA All-America honors and 274 All-America Scholar-Athlete honors. Huntington University is a comprehensive Christian college of the liberal arts offering graduate and undergraduate programs in more than 70 academic concentrations. U.S. News & World Report ranks Huntington among the best colleges in the Midwest.