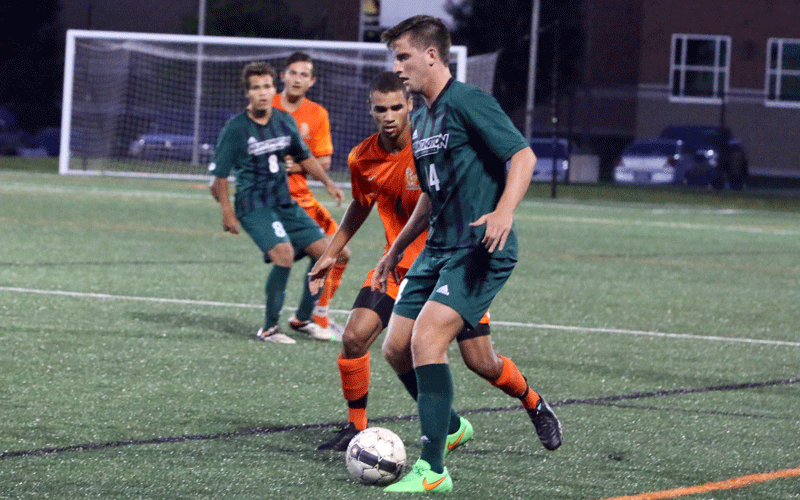 FORT WAYNE, Ind. – The Warriors of Indiana Tech got the best of the HU men's soccer team 3-0 under the lights on Saturday at Warrior Athletic Field. The loss drops Huntington to 1-2 while the Warriors improve to 2-0.

Tech waste little time jumping in front, scoring within three minutes of opening kick-off to enjoy a lead that would stick. Despite giving up the early goal, Huntington remained poised throughout the first half to keep within striking distance of their hosts.

The second half told a different story as HU was left vulnerable trying to play catch up to which the Warriors took advantage twice to make for the 3-0 shutout. When all the dust had settled, Tech finished with 18 shots, six on goal, to HU's eight, three of which were on frame. Brad Buzzard took the loss in goal for HU and corralled three saves on the night.

"After going down early, I felt the boys responded well and we grabbed our share of momentum to create a handful of quality opportunities," said Coach Russ Lawson. "Indiana Tech is a strong side and carried the play in the second half, and caught us trying to get the equalizer.

"But there is positive to build on here and the boys are hungry!"

Coach Lawson's crew won't have long to wait as they return to King Stadium on Monday to host the University of Cumberlands (KY) at 2:00 p.m.

The Huntington University Foresters compete in 17 intercollegiate sports for men and women. In the past decade, Huntington has produced 38 NAIA All-America honors and 254 All-America Scholar Athlete honors. Huntington University is a comprehensive Christian college of the liberal arts offering graduate and undergraduate programs in more than 70 academic concentrations. U.S. News & World Report ranks Huntington among the best colleges in the Midwest.