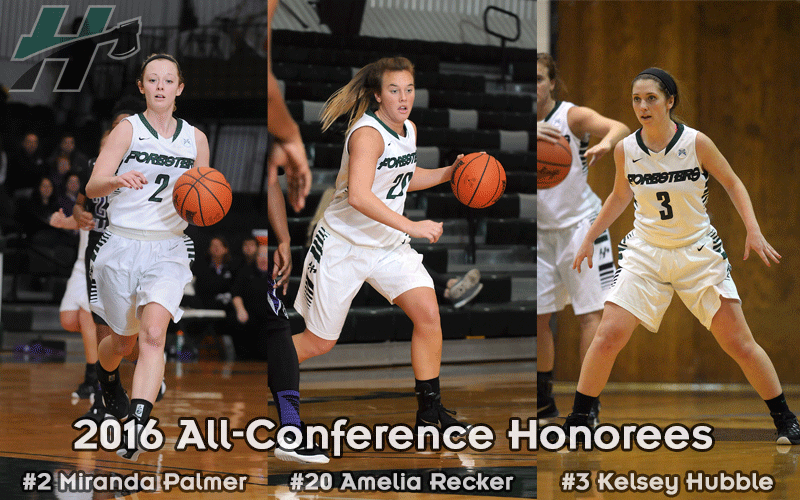 HUNTINGTON, Ind. - The Crossroads League announced its post-season awards for the 2015-16 women's basketball season and among the list of honorees were junior Miranda Palmer and seniors Amelia Recker and Kelsey Hubble.

For the second consecutive season, Palmer (Arcadia, Ohio, Arcadia HS) was one of five players voted First Team All-Conference. A member of the All-Freshmen Team as a rookie, the 5-6 guard is currently averaging a team-leading 18.4 points and 4.1 rebounds. She also leads the team in assists (3.7) and steals (1.9).

Among her conference peers she ranks second in 3-point field goal percentage (.383), third in scoring (18.4), third in assists (3.7), third in 3-pointers per game (2.13), fourth in steals (1.9) and fourth in free throw percentage (.775). Twice this season she has been selected as the CL Player of the Week.

For the third time in as many years, Recker earned Second Team All-Conference accolades. The Arlington native (Arlington HS), also an All-Freshmen Team honoree, tosses in 14.6 points per night which places her sixth in the league in scoring.

Recker is also averaging a team-best 8.5 rebounds, 2.9 assists and 1.3 steals for the Foresters. She leads the conference in free throw percentage (.852) in addition to ranking third in defensive rebounds per game (6.1), fourth in double doubles (9), fifth in field goal percentage (.475), fifth in assist/turnover ratio (1.58) and sixth in total rebounds per game (8.5). For her career, Recker has scored 1,707 points which places her 4th on HU's all-time scoring list.

Hubble, a three-year starter for the Foresters, was also among the league's best. The Pendleton native (Pendleton Heights HS) is averaging 10.8 points, 3.3 rebounds and 3.0 assists and for her efforts was selected All-Conference Honorable Mention.

The 5-6 shooting guard is ranked seventh in the league in assists per game (3.0), eleventh in 3-pointers per game (1.47) and seventeenth in scoring (10.8). Several weeks ago she became the 24th Forester to join the 1,000 point club. To date she has scored 1,036 points for a career average of 8.8 points per outing.

The 7th-seeded Foresters (17-13) travel to 2nd-seeded Goshen College (18-12) Tuesday night at 7 p.m. in quarterfinal action of the conference tournament.
The Huntington University Foresters compete in 17 intercollegiate sports for men and women. In the past decade, Huntington has produced 39 NAIA All-America honors and 234 All-America Scholar Athlete honors. Huntington University is a comprehensive Christian college of the liberal arts offering graduate and undergraduate programs in more than 70 academic concentrations. U.S. News & World Report ranks Huntington among the best colleges in the Midwest.