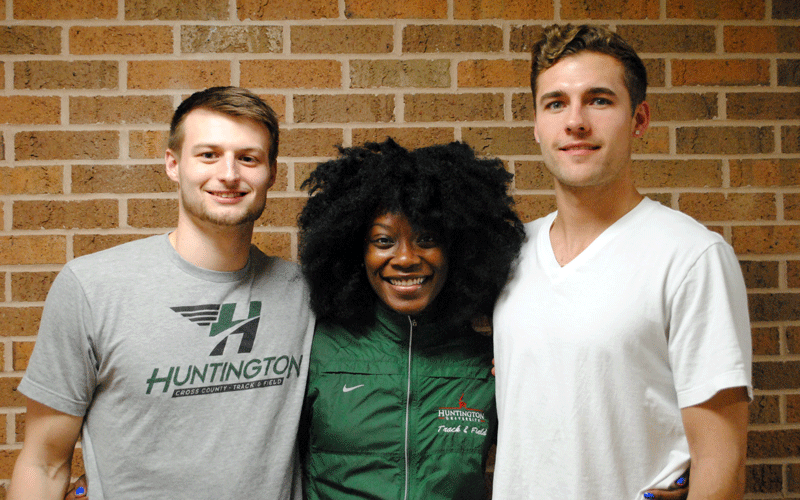 KANSAS CITY, Mo. - The official qualifiers for the 2017 NAIA Men's and Women's Indoor Track & Field National Championships have been announced and among the list are three Forester student-athletes.

The 52nd annual men's and 37th annual women's events will take place March 2 - 4 in Johnson City, Tenn. at the David E. Walker Track at Gentry Field.
.
Senior Jake Nash wasted little time punching his ticket for his third trip to indoor nationals. The Lebanon (Ohio) qualified at HU's first meet, the Sean Brady Conditioner, with a mark of 2.09 meters in high jump. He will compete as the 6th seed on Friday at 2:00 p.m. in hopes of his third indoor track and field All-America honor.

Senior Christiana Hicks will also be on the prowl for another All-America honor as she will compete in indoor triple jump for the third time in her Forester career. The Fort Wayne native earned All-America honors last year and will look to repeat on Saturday at 10:00 a.m. She will enter triple jump as the 20th seed having qualified at the Crossroads League Invitational with a leap 11.25 meters.

Senior Brooks Gerke is a repeat competitor at the indoor championships in the heptathlon having gone in 2015. Like Hicks, he qualified at the Crossroads League Invitational where he scored 4,515 points and will enter as the 14th seed. Competition for the Auburn native will span Thursday and Friday.

Stretch Internet, the NAIA's official video streaming company, will be broadcasting all sessions of the national championships. Packages can be purchased for $14.95. For more information, visit www.naianetwork.com.

The Huntington University Foresters compete in 17 intercollegiate sports for men and women. In the past decade, Huntington has produced 38 NAIA All-America honors and 254 All-America Scholar Athlete honors. Huntington University is a comprehensive Christian college of the liberal arts offering graduate and undergraduate programs in more than 70 academic concentrations. U.S. News & World Report ranks Huntington among the best colleges in the Midwest.