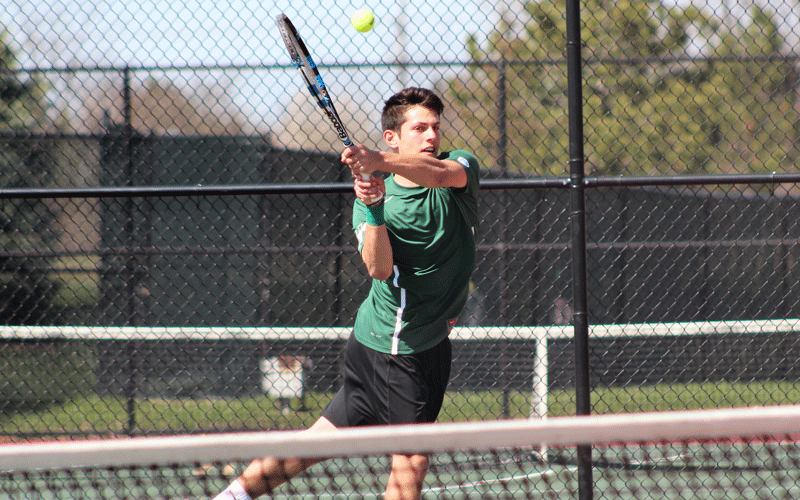 HUNTINGTON, Ind. –After suffering a 7-2 loss to the Forester men's tennis team this fall, it was sweet revenge for the Taylor University Trojans as they eked out a 5-4 win Saturday afternoon at Klopfenstein Courts.

Rodrigo Manzo was a double winner for Coach Eckert's squad, teaming up with Giovanni Martinez at No. 1 doubles for an 8-3 win over Alex Jung and Juan Ramirez before polishing off Ramirez at No. 1 singles, 6-0, 6-2.

Mariano Echevarria topped Andre Danelli at #4 singles (6-2, 6-3) while Brody Worl claimed HU's other win at #6 singles, a three-set thriller (2-6, 7-5 (10-6)) over Victor Cheng.

It was HU's first home match of the spring as they drop to 9-8 on the year. The Foresters are back in action on April 19 when they host Indiana Tech at 5:00 p.m.

SINGLES RECAP
No. 1 – Rodrigo Manzo (HU) def. Juan Ramirez (TU) 6-0, 6-2
No. 2 – Salvado Lo Cascio (TU) def. Giovanni Martinez (HU) 6-4, 6-2
No. 3 – Stephen All (TU) def. Luke Buttermore (HU) 6-2, 6-3
No. 4 – Mariano Echevarria (HU) def. Andre Danelli (TU) 6-2, 6-3
No. 5 – Alex Jung (TU) def. Jacob Shelton (HU) 6-2, 6-2
No. 6 – Brody Worl (HU) def. Victor Cheng (TU) 2-6, 7-5 (10-6)

DOUBLES RECAP
No. 1 – Manzo/Martinez (HU) def. Jung/Ramirez (TU) 8-3
No. 2 –Danelli/Hunter (TU) def. Echevarria/Shelton (HU) 8-4
No. 3 – All/Lo Cascio (TU) def. Josh Deutsch/Buttermore (HU) 8-2

The Huntington University Foresters compete in 17 intercollegiate sports for men and women. In the past decade, Huntington has produced 38 NAIA All-America honors and 254 All-America Scholar Athlete honors. Huntington University is a comprehensive Christian college of the liberal arts offering graduate and undergraduate programs in more than 70 academic concentrations. U.S. News & World Report ranks Huntington among the best colleges in the Midwest.