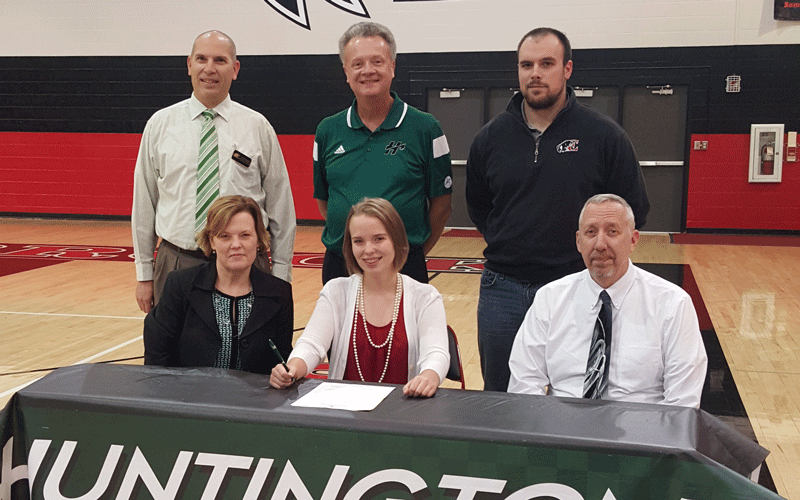 HUNTINGTON, Ind. - Huntington University head women's golf coach Pete Schownir has inked his first recruit for 2016-17 with the signing of Eastbrook standout Reilly Vore.

This past fall, Vore helped guide the Panthers to 11 regular season wins and for her efforts was named All-Conference in addition to being voted her team's MVP. Vore was also named the Grant-4 Team Winner as a sophomore and has twice been named the Panthers' most improved golfer.

Vore has been involved in several other extracurricular activities such as serving two years on student council. She is also a two-year member of the National Honor Society.

The Fairmount native is looking forward to becoming a Forester. "I chose Huntington University because there was a sincerity and kindness in the people I met every time I set foot on campus.

"The community life was welcoming and it made quite an impact on me while I was there. I am excited to play the sport I love at a school that I have liked from the moment I stepped on campus. I am excited to further my education as well as my golf game at Huntington."

Coach Schownir is equally as excited to have Vore join his team. "I am excited to have Reilly be a Forester starting in 2016-17. I have been following her high school career and she has improved tremendously, especially during her senior year.

"She respects the game, works at it, and is excellent academically. I look forward to seeing what the next four years will bring for her and our program."

Front Row (L-R): Cheryl (mother), Reilly, Steve (father). Back Row (L-R): Pat McLaughlin (Eastbrook Principal), Pete Schownir (HU Golf Coach), Adlai Deisler (Eastbrook Golf Coach).

The Huntington University Foresters compete in 17 intercollegiate sports for men and women. In the past decade, Huntington has produced 39 NAIA All-America honors and 234 All-America Scholar Athlete honors. Huntington University is a comprehensive Christian college of the liberal arts offering graduate and undergraduate programs in more than 70 academic concentrations. U.S. News & World Report ranks Huntington among the best colleges in the Midwest.